Voice Brief iPhone App Reads to You (Text to Speech)
High quality text to speech on iPhone and iPod touch without using data plan for audio. (FREEBIE for few hours). Mini review.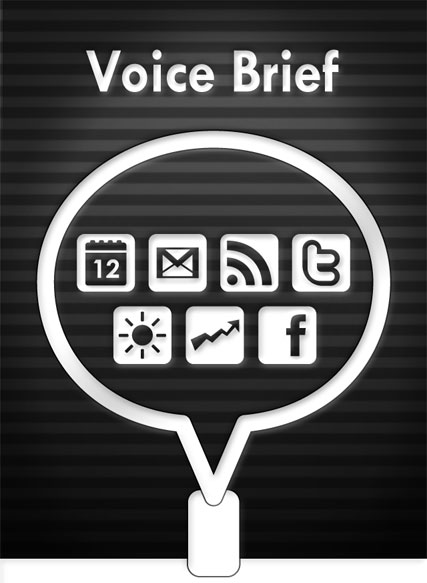 Download Voice Brief for iPhone
Voice Brief provides radio-like text to speech. The iPhone app can read content from Facebook, Twitter, email, browser, RSS news, weather, schedule and stock prices to you in the background. The sound quality is impressive considering it's processed on the fly on the iPhone. (Text to speech such as that of some free turn-by-turn iPhone GPS are processed on servers).
Due to quality of voice, the large 235MB Voice Brief download [App Store] requires WiFi.
Designed for iPhone and iPod touch, also works on iPad and iPad 2 in x2 mode. Free until 10PM PT today (March 15).
Voice Brief Mini Review
ObamaPacman's mini review of Voice Brief:
Great: Weather is REALLY detailed!!!
Needs improvement (tested with iPad 2 4-5 weeks availability article):
Website Sub-titles are not detected by alternative voice. Title is detected and read with different voice, so tags such as H2 should be detected as well.
Bug: 4-5 in title sounds like forty-five instead of four to five. Similar text in body is read as four DASH five. Maybe when dash is between numbers it should be spoken as TO.
Could put edit and add on the same screen, so don't have to go into an additional level to add.
Voice Brief for iPhone and iPod touch is overall excellent. It's only version 1.01 right now so it could become more polished in time. So, who is going to add speech recognition to turn it into Iron Man's Project Jarvis?
via 9to5

Related Posts