Twitter Democracy Angry Birds vs. Three Big Dictator Pigs
Based on a real story: iPhone game Angry Birds, Disney Three Little Pigs, & Egypt democracy movement mashup.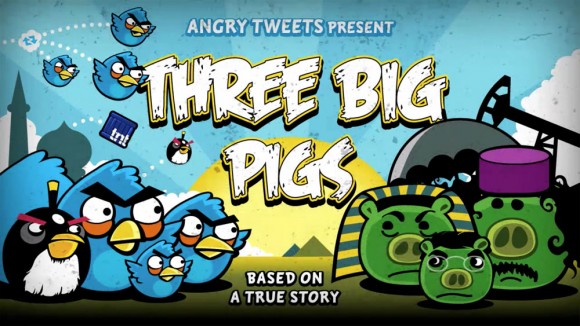 Video: Angry Birds Twitter Democracy
Angry Birds isn't just mindless destruction with no peace treaty prospects. Here's a video showing parallels with Twitter powered democracy movements around the world.
Bluebirds want democracy but black bird wants theocracy, who will win? Video shows Angry Birds vs:
Ben Ali, Ex-President of Tunisia
Mubarak, Ex-President of Egypt
Gaddafi, soon to be ex-leader of Libya
There's a Mighty Eagle cameo too! Bonus level: North Korea dictator Kim Jong-il with bunker protected with a-bombs, which the might eagle said "I dunno guys, it's kind of scary."
Music from classic Disney animation, The Three Little Pigs. Video is created by Egor Zhgun, who originally intended this to be a Flash game, but says creating the game physics engine turned out to be more involved than he thought. (Maybe HTML5 game next time?)

Related Posts