Target Stores iPad 2 Inventory Checker
How to find iPad 2 availability at Target Stores + Best Buy + Walmart near you.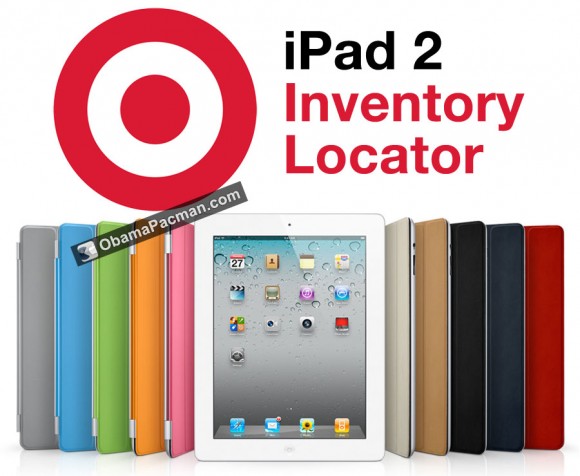 UPDATE April 13: Getting some reports this week of Inventory hold for Sunday April 17. Supposedly if you show them inventory availability on your iPhone and say that you drove xyz long to get to the store, manager can typically override.
iPad 2 Inventory Locator: Target Stores
Target has a very limited number of five iPad 2 at launch, but there are scatter reports of some small number of shipments.
Here's how to check inventory of all 18 models (and model numbers) of iPad 2 at target. Go to the model and enter your zip code. It'll either say "Out of Stock", "Limited Availability" or "Available."
Black iPad 2, Check Target Inventory
White iPad 2, Target Inventory Checker
"Limited availability" means they are likely to have one iPad 2 in stock. This is only useful if you are really close to the Target Store, because if you are too far, someone else might get it before you do.
Occasionally, some stores would have no iPad 2 for sale even with "limited availability" status. Speculations are that maybe they are in the back room and it's not on the shelves yet. If you call to check inventory, ask for electronics counter.
Order iPad 2 Online
If you don't want to hunt for iPad 2 like a headless chicken, just Order From Apple Store and end the madness.
Also, check out the new Best Buy iPad 2 Inventory Tracker and Walmart iPad 2 Inventory Tracker.
Like the story? Follow us on Twitter @obamapacman or Like Us on Facebook. Related: Why it's hard to find iPad 2 inventory

Related Posts