Tale of 2 Cities: Why It's Hard to Find iPad 2
Story of iPad 2 grey market from New York City to Hong Kong, and why scalpers have more iPad 2 inventory than Apple Stores.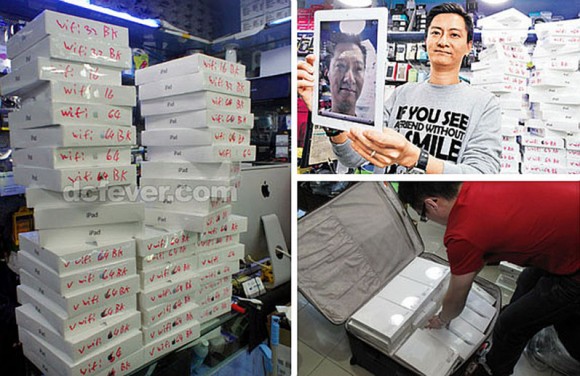 New York City Scalpers & iPad 2 Lines
Why are there hundreds of Asians / Chinese people in iPad 2 lines at New York, San Francisco, and other popular Apple Stores?
Answer: organized scalpers. "A cutthroat Asian group" is buying iPad 2 for scalpers who resell them on the grey market, often spending overnight and buying up Apple Store inventory every morning, to the frustration of legitimate customers.
NY Post reports in a recent morning, one such ringleader carry wads of $100 bills, distributing to 5 sidekicks, who then allocate the money to 200 Asians (probably Chinese) outside the New York Fifth Avenue Apple Store.
Quarter-Million Dollar iPad 2 Inventory Problem
ObamaPacman calculates that the scalper ringleader carries up to $360,000 of cash each day. 200 people buying two iPad 2 each, at price of $499 to $829 per person, plus tax means you need $214,570 to $356,470, before paying for each person for their time.
Thinking about stopping the practice yourself? A person carrying over quarter-million dollars in cash probably has some "protection" from muggers.
The scalpers then send them to Hong Kong or China via couriers or try to sell them on the street near by Apple Stores. The NY Post reporter is offered a ridiculous price of $1700 to $2000 for the top of the line iPad that sells for $829 at an Apple Store.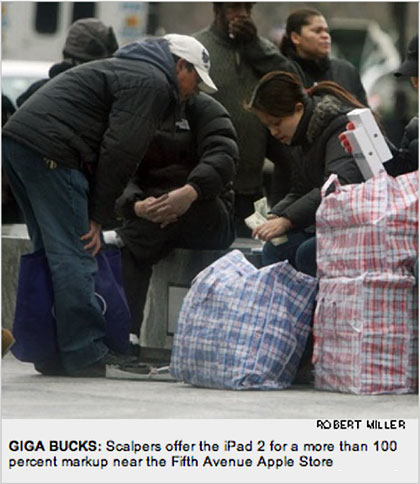 Hong Kong iPad 2 Grey Market
MIC Gadget reports on the iPad 2 grey market story at Hong Kong. (Mic Gadget is the company that brought Steve Jobs action figure and Ninja Steve action figure, both resulted in: Apple Kills Steve Jobs … Action Figure).
The 'master' of the gray market in Hong Kong, Mr. Lo, (seen in this fake iPhone 4 analysis), already sold hundreds to thousands of real iPhone 4 and iPad last year.
Before iPad 2 launch this year, he already got 200 pre-orders. So Mr. Lo arranged for eight couriers in New York, Chicago, San Francisco and Los Angeles to bring 200 iPad 2 to HK right after the March 11 launch. After hours in line (and probably getting friends / other people in line) to buy the new Apple tablet, the iPad 2 couriers boarded airplanes to fly to Hong Kong immediately with up to 40 iPads in luggage, to arrive on March 13.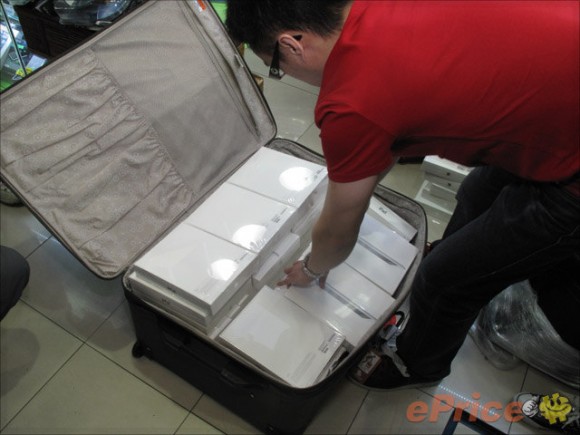 Customers, who paid deposit of $128 each, are told to come to the store around 7 to 8AM in the morning. Mr. Lo is only retailer selling iPad 2 at the time, at a time when other vendors are not even awake yet.
The Hong Kong iPad 2 is priced about 100% more than Apple Store prices, so a 64GB iPad 2 Wi-Fi + 3G is $1525. On the first day he had about 60 iPad 2, mostly the high end version. Some customers were shocked at the pricing. One such female customer:
"It's too expensive, I didn't expect the vendors to offer this price, it's over my budget! They are earning big profits from this!"
Those unhappy with the prices can get their deposit refunded from Mr. Lo. But others thought it's just the way of life. The Cupertino California based Apple sells to US first, and there is no date set for China release. Thus, vendors are expected to import and markup the prices.
One of the customers who paid the high price is Chen, an App Developer. Chen plans using iPad 2 with HDMI output for demo purposes, and to "enjoy using an iPad 2 sooner than anyone else."
Here are the markups on iPad 2 and accessories in Hong Kong: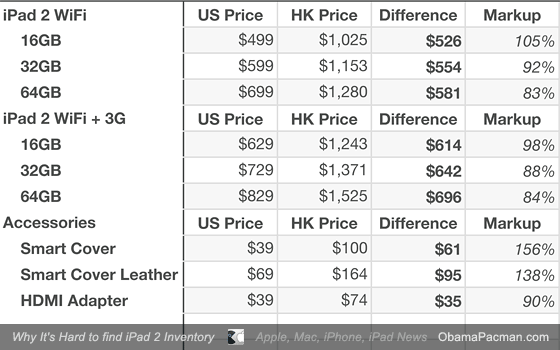 Video: iPad 2 Hong Kong Grey Market
iPad 2 Hong Kong Grey Market, video in Cantonese:
What Apple Should Do About iPad 2 Scalpers
Apple has the no-cash rule on occasions for its highly demanded iOS products from 2007 until last year, when one person made a stink about trying to buy an iPad with cash. Since then, Apple has allowed cash purchases. Now that leads to scalpers buying up iPad 2 inventory with place-holding people and cash. Result? Real Apple customers are inconvenienced while scalpers profit.
For the original iPhone, Apple implemented a credit card based system that limits the number of iPhone each person can buy. And there were no cash purchases. Doing that again will prevent the cash-only folks that buy up all the iPad 2 inventory only to resell it at a huge markup.
Where to Buy iPad
So, what are your options? If you want one now, you can:
Try our Target Store iPad 2 inventory locator, many OP readers found an iPad 2 with its help.
Line up at Apple Store in the early morning or overnight, with no guarantee of buying one.
Buy one from craigslist or ebay scalpers at a high markup.
If you can wait:
Buy online at Apple Store, currently with 4-5 week delivery time
Make reservation at Best Buy ($100 deposit required but that buys a Best Buy gift card, reports are that Best Buy will no longer take reservations for iPad 2 soon), with no estimate of availability date
Make reservations at other iPad 2 resellers such as B&H, J&R, or other iPad 2 sellers.
In the mean time, maybe even write to Apple CEO Steve Jobs at sjobs@apple.com or Apple senior executive Phil Schiller @pschiller to see if Apple will change its policy, so real customers can actually buy iPad 2. Like the story? Follow us on Twitter @obamapacman or Like Us on Facebook.

Related Posts