Story of Bill Gates' Microsoft Company Name
Story on why Microsoft founder Bill Gates choose the company name.
Bill Gates' Micro Soft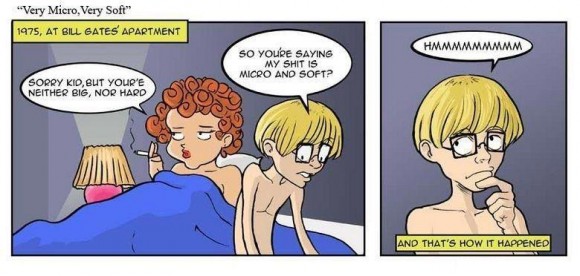 We know that Apple's name might be because Steve Jobs worked on orchards (may or may not contain apple trees). Perhaps Bill Gates also founded his company name due to life experience?
"Very Micro, Very Soft"

Scene: 1975, at Bill Gates' apartment
Girl: Sorry Kid, but you're neither big, nor hard.
Bill Gates: So you're saying my shat is micro and soft?
And that's how it happened
Thanks to Mac user Henry for the tip, who is definitely not a microsoft guy.
via funnyism

Related Posts