Steve Jobs & the Apple Charlie Chocolate Factory
Parody of classic book Charlie and the Chocolate Factory starring Steve Jobs & Apple.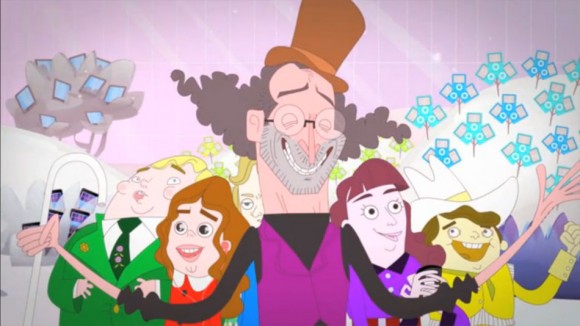 Video: Steve Jobs & the Apple Charlie Charlie Factory
The humorous adoption of Willy Wonka & the Chocolate Factory movie [Johnny Depp version
] reveals the secret of the Apple factory!
OMG! Looks like heaven: Apple orchard, Apple Store Oompa-Loompa, Picasso Photo Booth, iPad trees, flying MacBook Air, and a room with Apple's secret recipe! Drools…
What do you think? Is the "Charlie and the Apple Factory" animation better than Apple Avatar Pandora spoof music video?
The "nothing" argument is completely false though. Yes, some other products might have similar "features," but Apple products leads with innovative design and superior usability. What good is a feature if you need to read a long manual to figure out?
If Apple products are just generic products, how come for a decade of Apple wins, PC makers and Microsoft tried and failed to copy the iPod? How come phones do not have intuitive multi-touch and comes with hundred page manuals before Apple introduced the revolutionary iPhone? How come there were no desirable tablet computers before the iPad?
Anyhow, where do I find a golden iTicket? Maybe we can get some in iPad 2 boxes, Steve? Could the second prize be a visit of the Tcho iPhone controlled chocolate factory?
collegehumor via giz

Related Posts