Save Money on Gas with iPhone App
Find closest gas stations with lowest prices on your iPhone and iPad 3G.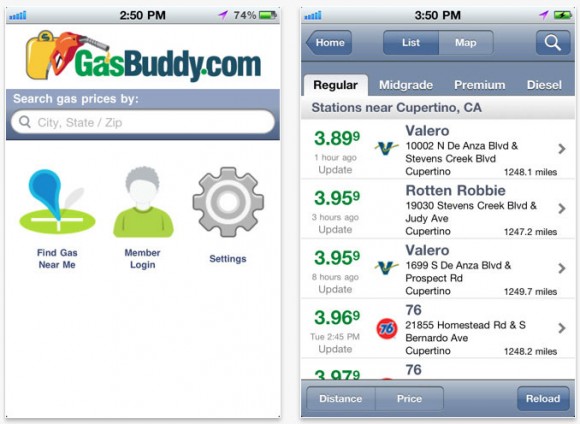 Gas Buddy Location & Price Comparison for US and Canada
Driving around looking for iPad 2 inventory at Target and Best Buy (Walmart coming soon) and need to find a gas station? There's an app for that.
This dealmac article mentions different ways to save money on gas. One such app is Gas Buddy [App Store, free]. Gad Buddy iPhone App provides gas stations and prices near you, so you can do some price comparison. You can also use it on an iPad 3G on x2 mode.
Of course, like any crowd sourced app, its accuracy and update frequency depends on your location. Seems reasonable in my area in Northern Virginia / Washington DC. Maybe it's due to the incentive:
"For every gas price reported, you'll earn points toward prize give-away entries. We give away a $250 gas gift card every week."
Added under my Navigation folder, along with this turn by turn navigation iPhone app.
Other tips to improve your vehicle's mileage include: inflate your tires to proper pressure, use the correct fuel grade (high-octane fuel don't give better mileage), and STP Gas Treatment [Amazon Link
] (supposedly each 8 oz treats a tank to clean engine and fuel intake system, use a few times to get better mileage, $1.99 normally).

Related Posts