RIM BlackBerry Playbook Android App Support Myth
To make up for lack of developer interest, RIM hopes to catch up to iPad by advertising 'Android app support' for its new Playbook tablet. Here's what RIM didn't advertise.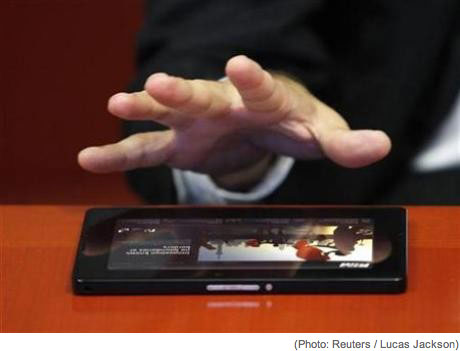 Just about everybody is trying to follow Apple's iPad, here is RIM's version.
Rim Playbook 'Tablet' Android App Support
Apparently RIM believes Fandroids will be too blind to see that RIM tablets will be limited to 2.3 Gingerbread phone apps (not 3.0 honeycomb), which are launched in (slow) emulator mode. Playbook won't have access to the actual Android market open wasteland either. Jean-Louis Gassée wrote on Monday Note:
The "going to the Android Market" part is false. It is a deliberate attempt to mislead.

The Android apps won't work directly into the app player. The developer, not the user, will need to "quickly and easily" port their apps to run on the tablet OS, according to RIM. The same developer will also need to repackage, code sign and submit their apps to the Blackberry App World for approval.

There is more: the PlayBook app player will only run Android 2.3 (Gingerbread) apps. These apps are designed for smartphones, not tablets. According to Google, for tablets you need Android 3.0 (Honeycomb).
To favor BlackBerry's own development platform, Android Apps will run slower, because it'll run inside of an emulator. For a platform that can't attract serious developer interest, making Android Apps slow would surely get those developers fired up to revise and submit their phone apps to RIM.
How did investors react to the recent RIM CEO Balsillie earnings report and Playbook advertisement? RIM lost 11.23% of its value in one trading session on the past Friday March 25th.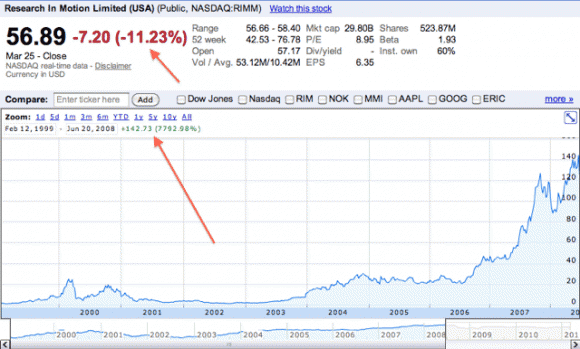 So, in conclusion:
1. No developer interest for RIM BlackBerry / Playbook App World
2. RIM advertises "Android Apps"
3. RIM hides the fact that Android apps needs to be re-done and submitted / approved by App World
4. Rim hides the fact that Android apps in RIM App World are crippled slow
5. Still no developer interest in RIM App World
Basically, after almost 4 years of trying to copy the 2007 iPhone, this is RIM's best attempt marketing an over-sized phone as a tablet?
Well, even Motorola, the most 'successful' of Android makers, is still unsustainably losing money working with just one platform. Seems that RIM, attempting to run 2 platform (at higher cost) is following the path of Palm into bankruptcy?
PS. Apple iPad's 9.7″ display allows a full size keyboard. RIM Playbook's much smaller display has only half the display area, so it still uses a netbook / phone sized keyboard. Trying to sell a crippled device at the same price as the market leading iPad is just deranged. Playbook is still not on the market yet (still has no battery life numbers!), despite being 'announced' shortly after Steve Jobs introduced the iPad in January 2010.

Related Posts