ObamaPacman Site Improvement
This morning, we took the server down to move Apple blog ObamaPacman to a more powerful server.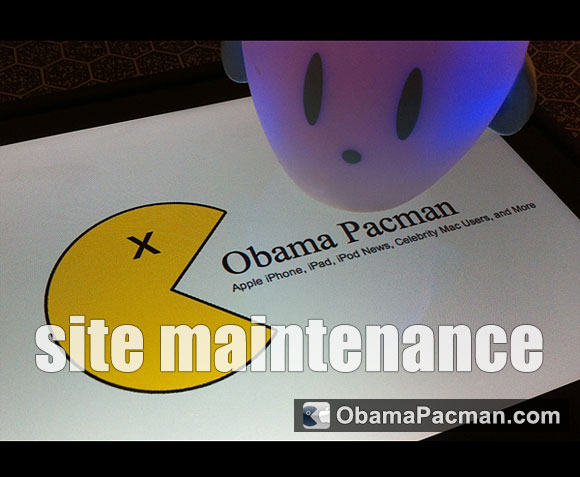 This morning's scheduled downtime was required to finish the sync of old server to new server.
Apple blog ObamaPacman only turned one last July!
We only moved our site to a faster VPS server in January, but with the faster server, readership also increased dramatically. Current peak traffic is 500% of January average, resulting in occasional slowdowns and downtimes due to high ObamaPacman readership demand.
So, what did we do:
Improved site code performance (now better under load).
More powerful server. The new server has about 10 times of resources available than the January server. The new platform also allows scaling up of resources in hours, so future downtime due to surges in demand will be minimized.
Recently: moved to W3 Total Cache instead of WP Super Cache.
Recently: our custom funny CAPTCHA removed, due to additional processing power required for each view. Spam comments are still filtered.
Future:
CDN: scheduled to implement later this week. Serves static content from servers around the world to improve site loading time.
More site improvements in the future. Comment if you got suggestions for Mac based Wordpress shop in the US east coast preferably in Washington DC, NoVA area.
What's currently out of our control:
Top stories are not updated regularly and doe not show top 5. It is served by Wordpress.com, but they've been having some problems for past weeks. Maybe WP wants to push those with self-hosted server to use Jetpack plugin? Jetpack still requires connection to Wordpress.com account.
Quick stats on our 1+ year old site:
What you can do:
Let us know if you see anything odd, such as missing videos or images. Also, keep reading, and share our 'little' Apple blog with your friends! (Follow us on Twitter @obamapacman or Like Us on Facebook.)
PS. Don't forget to buy some ObamaPacman stickers (no-residue, water-proof, UV-proof) for your new iPad 2 and Mac! Thank you.

Related Posts