iPhone FPS Game Release: Rainbow Six Shadow Vanguard
New FPS Rainbow Six for iPhone and iPod touch released. Game play video.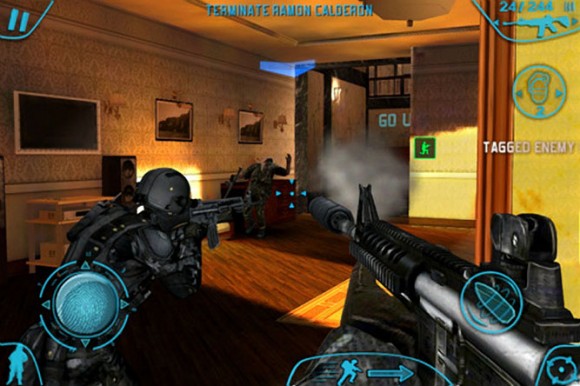 Trailer: Rainbow Six Shadow Vanguard
Tom Clancy's Rainbow Six Shadow Vanguard [App Store, $6.99] for iOS is a squad-based first person shooter with some flavor of its famous strategy shooter. On the iPhone and iPod touch, you can command your squad mates to do certain tasks, but without the frustrating maddening one-hit elimination.
It's an "original title" with 11 missions and recreated / enriched levels based on original Rainbow Six game. Join up to 2 friends and play the game together online or locally in Co-op modes. There's even up to 10 player multi-player mode.
Gameplay Video: Rainbow Six Shadow Vanguard
Rainbow Six Shadow Vanguard works on iPhone 3GS, iPhone 4, iPod touch 3rd and 4th gen with iOS 3.1.3 or later. Localized in English, Chinese, French, German, Italian, Japanese, Korean, Portuguese and Spanish.
Awesome! It's made by Gameloft so an iPad 2 version is likely in the future.
[App Store, $6.99]

Related Posts