Motorola Xoom HTML5 & CSS3 Standard Performance
HTML5 & CSS3 web standard performance of Motorola Xoom Android Honeycomb tablet.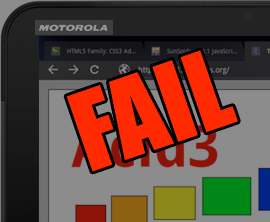 Motorola Xoom HTML5 & CSS3 Standard Performance
How well does the Android Honeycomb tablet perform for the mobile HTML5 developer? Does the 2011 Honeycomb Android tablet leapfrog the Apple 2010 iPad or the Samsung Galaxy Tab? Sencha, a leading provider of open-source web application frameworks, tests:
The short answer? The Xoom browser is not ready for prime-time – even for "HTML4″ – and it urgently needs a patch update if Motorola wants the product to succeed.
But isn't Android all about open web standards such as CSS3? It appears that the Android Dilbert Committee just can't keep up with iPad of last year:
It's been nearly a year since Apple shipped the iPad and we're still incredibly surprised that Google and Motorola have yet to build a mobile browser that has a correct and high-performance CSS3 implementation.
Conclusion? Android Honeycomb iPad wanna-bee tablet fail:
The Xoom and Honeycomb are a real disappointment. We found consistent and reproducible issues in CSS3 Animations and CSS3 Transitions among other things. We had issues where the browser either hung or crashed. Regular scrolling was slow or below full framerate. We had issues where media playback failed or performed incorrectly. At times it felt like we were using a preproduction device, but we bought our test device from a Verizon Wireless store.
At least the iPad-wannabe tablet Xoom comes with Flash. Oh wait, here's the Motorola Android tablet Flash fail. It can't even access its own web site. Great job.
As for us, we're going with iPad 2, a complete and polished product.

Related Posts