iPad 2 Specs Amazon Germany: 1.2Ghz, Thunderbolt, Camera?
A German Apple fan found iPad 2 specs briefly on Amazon Germany, listing of Thunderbolt and 1.2Ghz processor. Leaked?
iPad 2 Specs, Amazon Germany Leaked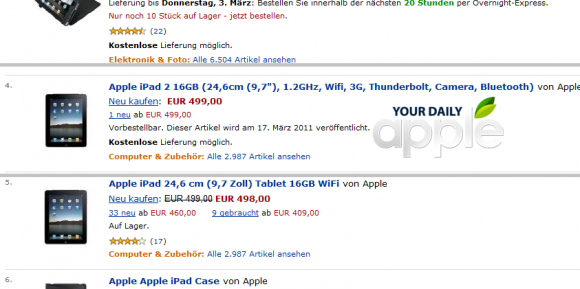 The now removed leaked iPad 2 specs shows: 16 GB iPad 2 with 1.2GHz processor, Thunderbolt, and Facetime Camera. Other specs includes WiFi, 3G, and Bluetooth with same 9.7-inch high quality display. The iPad 2 is priced at €499 with March 17 estimated release date.
The link ( http://www.amazon.de/Apple-iPad-2-16GB-69cm-ThunderB-Bluetooth/dp/B05642C7481G/ref=sr_1_2?ie=UTF8&s=computers&qid=129549015235&sr=8-2-catcorr ) now leads to a 404 error.
Real or Fake? Amazon iPad 2 Leaked Specs
So, is it real or fake? Occasionally Amazon does leak some product details by publishing it too early. Do you think this is the case? Did someone entered the wrong publishing time so Amazon had to pull the leaked iPad 2 listing?
Well, due to the listing uses the original 2010 iPad image, we at ObamaPacman.com suspects this is as real as the funny iPad mockups. Likely explanation: the "leaked" iPad 2 specs is a fake placeholder posting created by a private seller, not Apple or Amazon Germany.
We'll find out at today's iPad 2 Apple Keynote. Maybe Steve Jobs will even release a duo core iPad 2 with built in coffee maker!
yourdailyapple via macnn

Related Posts