iPad 2: Smart Cover Protects, Stands, Wakes iPad
iPad 2 will have magnetic cover accessory! Protects, wakes, stands iPad.
iPad 2 Smart Cover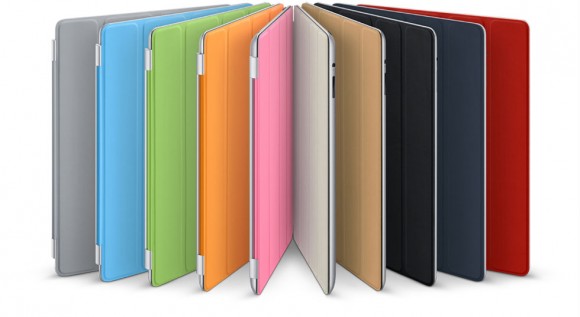 iPad 2 Smart Cover Brightens ipad
Original iPad case doubles as a stand, but covers up the beautiful design. So, what does Apple CEO think about it? Steve Jobs: "We did a case for the original iPad. It worked pretty well, but we went to all the trouble to make this beautiful design, but then covered it up with the case. We thought we could do better than this with the iPad 2."
Apple on iPad 2 Smart Cover:
"Built-in magnets draw the Smart Cover to iPad for a perfect fit that not only protects, but also wakes up, stands up, and brightens up your iPad. That's not just smart. It's genius."
The Smart Cover is held with auto-aligning magnets. It has built in micro-fiber lining that cleans screen. The Smart Cover uses magnet to perform the magic: Open it, and iPad instantly wakes up. Close it, and iPad sleeps. It doubles as a stand. It's a cover, not a case, so it is perfect to show off your iPad Pacman sticker!
iPad 2 Smart Cover Prices & Colors
iPad 2 Smart Cover is made with Italian leather or Polyurethane ("used to make space suits"), 5 colors of each type are available. Expected to be available in Apple Store and to order on March 11, 2011. Prices for iPad 2 smart cover:
iPad Smart Cover – Polyurethane, Gray, Blue, Green, Orange, Pink: $39.00
iPad Smart Cover – Leather, Cream, Tan, Black, Navy, Product Red: $69.00

Related Posts