iPad 2 Release Date, Price, Accessories
Steve Jobs reveals pricing and release date at iPad 2 Keynote.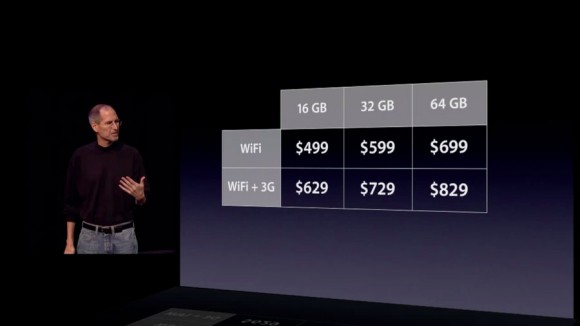 iPad 2: US Release Date
Steve Jobs, at iPad 2 Keynote:
"When is Apple going to ship it? April, May June? No."
On March 11, a week from this Friday, Apple will ship new iPad in volume in the U.S. for both AT&T (unlocked GSM) and Verizon (CDMA).
iPad 2: International Release Date
Only two weeks after the iPd 2 US release, on March 25, iPad 2 will ship in at least 26 more countries, including high volume countries such as Australia, Canada, France, Germany, Japan, and UK.
Other iPad 2 international countries with March 25 availability includes: Austria, Belgium, Czech Republic, Denmark, Finland, Greece, Iceland, Italy, Ireland, Hungary, Luxembourg, Mexico, Netherlands, New Zealand, Norway, Poland, Portugal, Spain, Sweden, Switzerland.
Price: iPad 2 with WiFi
Prices of iPad 2 with WiFi, Black or White:
16 GB iPad 2 Wifi $499.00
32 GB iPad 2 Wifi $599.00
64 GB iPad 2 Wifi $699.00
Price: iPad 2 with WiFi + 3G
Pricing of iPad 2 with WiFi + 3G, GSM (AT&T) or CDMA (Verizon), Black or White:
16 GB iPad 2 Wifi + 3G $629.00
32 GB iPad 2 Wifi + 3G $729.00
64 GB iPad 2 Wifi + 3G $829.00
iPad 2 Accessories
iPad 2 has some awesome optional accessories:
iPad Smart Cover
1080P HDMI Video Output Adapter
More at Apple iPad page

Related Posts