iPad 2, Online Apple Store 1AM Order Time Tomorrow + Retail Store Deails
When can I order iPad 2? Apple publishes official ordering times: 1AM PST (4AM EST) Apple Store online, and 5PM at retail stores.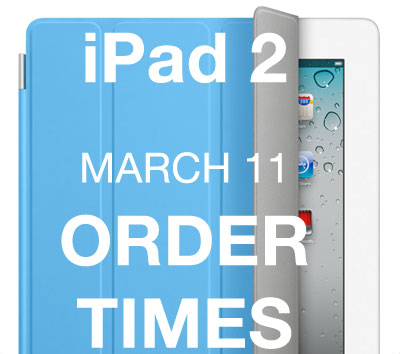 You got about 16 and a half hours to decide whether you want to order iPad 2 from online Apple Store or queue up at a retail store. (NOTE: "where to order list" updated)
Apple Store Online iPad 2 Order Time
Set your alarm for 1 AM PST (4AM EST) on March 11 if you want to be the first to order iPad 2 online. This ensures your iPad 2 will be shipped on launch day.
You can do it first thing in the morning, but it's likely that the first-day-shipped inventory might be sold out and you have to wait longer to get your order.
Due to shipping, you won't get to play your iPad 2 on launch day. Instead, expect your new Apple tablet to arrive Saturday (rare cases) or early next week. Apple geeks might have to resort to real life Cut the Rope game on Friday night instead.
iPad 2 Order In Store
If you love the ambience of hanging out at Apple Store product launches, then head to a store. Won't be the 24 hour iPhone Odyssey, but expect a few hours in line (if they are not sold out) to order your iPad 2 at Apple retail stores. Or be this guy, who has the BEST WAY to line up for iPad 2.
Even the "short" iPad line of last year are around 3 or 4 hours for unreserved customers (few hours before store opened, and 1 hour after store opened at Reston Apple Store iPad line).
Pros: get to play with new magical iPad 2 on launch day. Increases Apple geek halo. Cons: really late dinner, significant other might be ignored… oh shiny and faster!
UPDTE: sold out? Apple Stores are expected to get small shipment of iPad 2 everyday. Get to the store before they open for a chance to get one! They will sell out quickly every morning.
AT&T, Verizon Store, Online Order Times

Online ordering times for AT&T and Verizon iPad 2, macrumors reports:
"AT&T will begin taking online orders at 1:00 AM Pacific Time, with in-store availability set for 5:00 PM local time. Verizon appears to only be offering in-store sales at "select" retail stores beginning at 5:00 PM local time."
Best Buy, Target, Walmart, etc.
iPad 2 will be available at 5 PM local time at select Apple Authorized Retailers such as Best Buy, Target, Walmart.
The question is, would Best Buy
have iPad 2 online ordering in the early AM?
Update: Best Buy: no online sales, limited tickets will be passed out at 4:30 pm for those in line. Only stores with Apple section will have 3G iPad 2. Said to be limited to 1 iPad per customer. Some Walmart already have them in stock but you can't buy them yet.
Where to order iPad 2
We'll keep you updated if it changes, so follow us @obamapacman or on Facebook.
International iPad 2 Launch Dates
iPad 2 will be available in Australia, Austria, Belgium, Canada, Czech Republic, Denmark, Finland, France, Germany, Greece, Hungary, Iceland, Ireland, Italy, Japan, Luxembourg, Mexico, Netherlands, New Zealand, Norway, Poland, Portugal, Spain, Sweden, Switzerland and the UK 2 weeks later, on March 25.
More international availability and pricing will be announced later.

Related Posts