iPad 2 International Availability: Starts with 2-3 Weeks Ship Time
It is 1am Friday March 25 at parts of the world and online Apple Stores in those countries are taking first iPad 2 orders for shipment.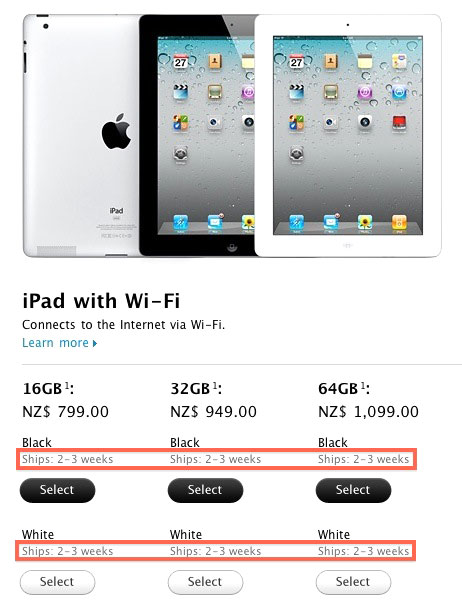 iPad 2 International Availability
Countries such as New Zealand and Australia already started its iPad 2 international launch, by opening online Apple Stores to take orders at 1 AM, March 25. The first iPad 2 availability for shipping at those countries are 2-3 weeks for both WiFi and Wifi + 3G version of the new Apple tablet.
It appears that Apple has set a different distribution channel for international iPad 2 orders. Although first New Zealand and Australia iPad 2 orders are not shipping immediately, the initial ship time of 2 to 3 weeks is shorter than that of current Apple online Store in the US with 4 to 5 weeks ship time estimate.
iPad 2 international launch will happen at Apple Stores and Apple authorized retailers in about 15 hours. (If you don't count this Hong Kong iPad 2 scalper.) Long iPad 2 lines are expected around the world.
Forget iPad 2 Asian invasion, will there be iPad Kangaroo invasion?
via macrumors

Related Posts