iPad 2 Apple Keynote Video [Download]
Download and watch the March 2 video of Apple iPad 2 Keynote, presented by CEO Steve Jobs. (72 minutes).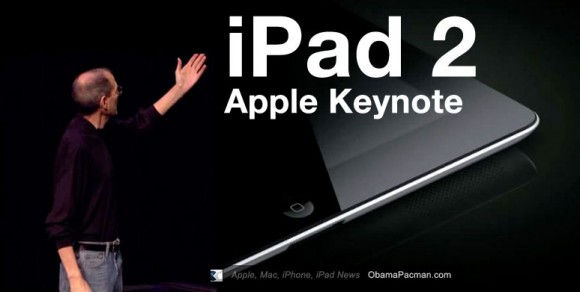 Video: Apple Introduces iPad 2 Keynote
On iPad 2 unveiling: "We've been working on this product for awhile and I didn't want to miss today." – Steve Jobs made a surprise appearance to host the iPad keynote:
If you want the condensed version, check out the 6 minute iPad 2 Walkthrough.
Download iPad 2 Keynote
Download Apple iPad 2 Keynote as MP4 here: [itunes link]
Apple:
Watch Apple unveil iPad 2 at a special event on March 2, 2011, in San Francisco. iPad 2 is thinner, lighter, and faster with two cameras for FaceTime video calls and HD video recording. Yet it still has the same 10-hour battery life.
iPad 2 Steve Jobs Apple Keynote Timeline
0:12 Steve Jobs on stage (shoes different from official Steve Jobs fashion)
0:40 Apple iBooks, store success, $2 billion paid to iOS developers
15:03 What about 2011? Year of the wanna-bees? iPad 2
23:36 Accessories for iPad 2, HDMI iPad Adapter, Smart Cover and Smart Cover Video
29:46 iOS 4.3 & iPad 2 Facetime demo by Scott Forstall, Senior VP iOS Software.
38:38 Steve Jobs describes Apple's theory in making apps, so it can improve the system for all developers, and set a bar for developers to do better. iMovie, Garageband
40:17 iMovie demo by chief architect for video applications Randy Ubillos.
46:50 Steve Jobs summarizes iMovie $4.99 on March 11, introduces Garageband
48:23 Garageband demo by director music marketing Xander Soren. iPad produces different sound depends on how hard you play an instrument! Secret = iPad's built in accelerometer. Must see if you are a musician.
1:00:02 Steve Jobs: "I'm blown away at this stuff." Summarizes Garageband, available for $4.99 on March 11!
1:01:13 iPad 2 Keynote summary by Steve Jobs.
1:02:29 Video: iPad 2 senior staff walkthrough, 2011, "Year of iPad 2″
1:08:28 Steve Jobs concludes by bringing up the convergence of liberal arts and technology in its new post-PC device.
iPad 2 release date is March 11, 2011.
iPad 2 Keynote Photos & Images
Go to second page for Apple iPad 2 Keynote video photos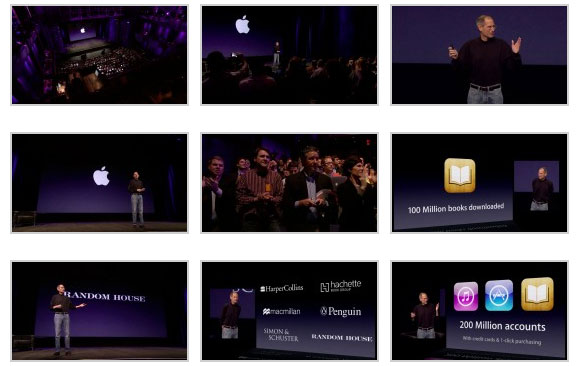 Continue reading using the navigation elements on top or on the bottom of the page…

Related Posts