Funny Jennifer Aniston Viral Video 'Directed' by iPad Geeks
Bright ideas from creative iPad geeks: combine Jennifer Aniston, virus, and viral memes for a humorous Smart Water viral video.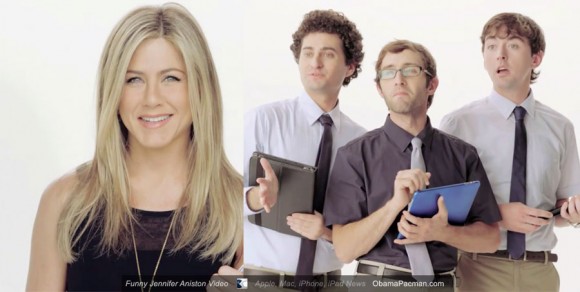 Video: iPad Geek Directs Jennifer Aniston Funny Ad
Macgasm: Mac celebrity girl Jennifer Aniston, following commands of iPad touting creatives, makes funny viral video full of interweb memes!
The funny smart water viral video with everything, including:
Jennifer Aniston Sex Tape Directed by iPad Geeks
It's so bright and vivid! And the best part? Aniston: "What are we going to call this video?" iPad creatives: "Jen Aniston sex tape."
Damn, those Apple geeks always have the best ideas! Let's hope they will get to Fly like the G6.

Related Posts