Fox Affiliate Shoots Broadcast News on iPad 2 [video]
Reporter Mike McNeill of KBTV Fox affiliate shoots his whole St. Patrick's day broadcast news segment LIVE on an iPad 2.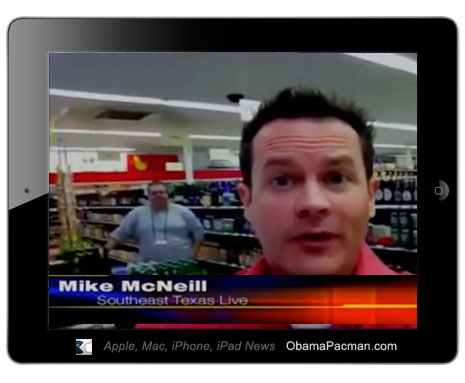 Video: Broadcast News Shot on iPad 2
First ever known case of iPad 2 video camera used to shoot broadcast news. The iPad 2 history was made at Spec's Liquor Store in Beaumont, Texas on a segment about how to celebrate St. Patricks's day. It's like one way Facetime with TV viewers!
"All the experts who know how to shoot these kind of stories are out on real stories," says McNeill in his report. "So, I just grabbed my iPad 2 and decided hey, you know what, we're Fox 4, we're innovators."
He even has an elusive iPad 2 box to prove it.
iPad 2 HD Camera Video Quality
The YouTube video is low quality. To see better details iPad 2 video quality see:
Hint, iPad 2 camera is passable for distance shots, good for close ups.
via tuaw

Related Posts