Engadget iPad 2 Review: Insanely Fast
The "absurdly thin" new iPad 2 is "insanely fast." – Engadget hands-on overview.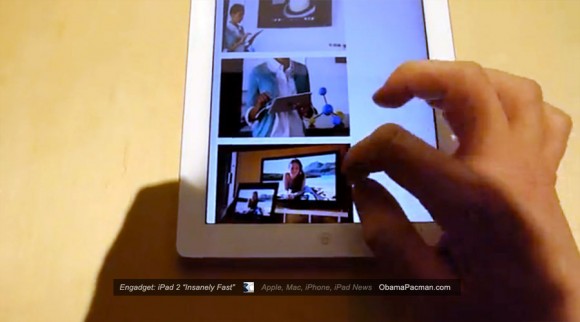 The "Absurdly Thin" new iPad 2 is "Insanely Fast"
Verdict of the new iPad 2 quick hands-on "review"? Safari and everything else are snappier! Engadget:
"This thing is insanely fast. We're not joking — it's blazingly fast. Everything the iPad 2 does feels like it's on turbo. We're uploading a video of the some evidence of this, you'll be appropriately stunned."
iBooks on original iPad is fast, but it's even faster on iPad 2. Image heavy web pages such as the Apple iPad 2 keynote, loads fast in Safari web browser. Looks amazing! Going back to another page comes up basically right away. New iPad Photo Booth App even has real time, full screen video-processing effects!
Check out some videos on engadget
Video 1, iBooks, browser speed
Video 2, iPad side and back
Video 3, Facetime test
Video 4, Photo Booth effects (and Smart Cover vertical position is not for those with heavy touch)

Related Posts