Download iOS 4.3! + Features Overview
Apple releases iOS 4.3 download for iPad, iPhone, and iPod touch, 2 days ahead of schedule! Download now.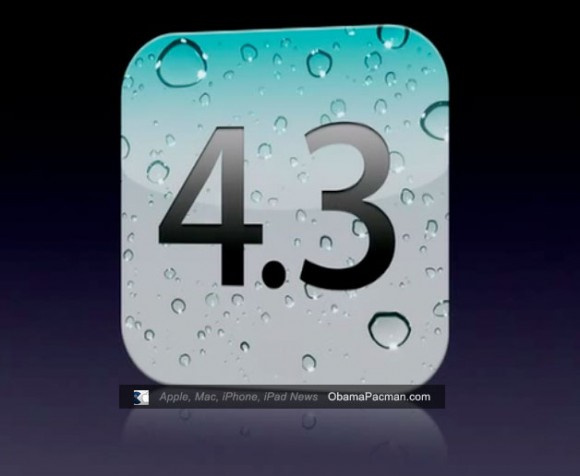 Download iOS 4.3
In iPad 2 Keynote, Apple announced that iOS 4.3 release date is March 11. Maybe Apple is saving all the processing power and bandwidth for the flood of iPad 2 orders this Friday.
You need the newest iTunes 10.2.1 (or later). Apple iOS web page still says: "The iOS 4.3 Software Update is coming soon." But just plug in your device to iTunes and you should be able to download the new iOS 4.3 firmware.
iOS 4.3 Features
iOS 4.3 improvements include:
iTunes Home Sharing: play entire iTunes library from your computer to your iPhone, iPad, or iPod touch over your WiFi network. Music, movie, tv show, podcast, audiobook from a shared iTunes library are all accessible without download or syncing!!!
Personal Hotspot / Tethering: share your GSM iPhone 4 mobile data with iPad, Mac, or any WiFi compatible device. Internet can be shared through WiFi, Bluetooth, and USB. Total up to five devices, with up to three of those connections using Wi-Fi. (Officially fee-based, but likely to be unlocked with jailbreak + cydia app). Tethering feature is included in the recently released Verizon CDMA iPhone 4 with iOS 4.2.5.
Safari Performance: Includes newest webkit engine, from the Apple sponsored open-sourced webkit project. Faster Javascript performance, runs up to twice as fast as iOS 4.2.
AirPlay Enhancements: Stream music, movies, photos, and AirPlay-enabled apps (such as YouTube app) to your HDMI equipped TV with the $99 Apple TV [Amazon Link]
iPad side switch can be customized as either mute or screen rotation lock.
iOS 4.3 continues to offer "Find my iPhone, iPad, or iPod touch"
iOS 4.3 Features
iOS 4.3 is compatible with:
iPhone 4 GSM
iPhone 3GS
iPod touch 4th generation
iPod touch 3rd generation
iPad

Related Posts