Cosmo Cover Photographer Martin Prihoda Uses Mac *and* iPad!
Must watch video for studio photographers. Photographer Martin Prihoda gives a behind the scenes tour of his lighting set up and how he uses Apple computer and iPad at the same time.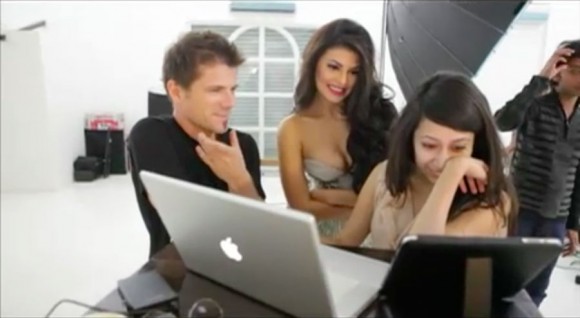 Video: Cosmo Cover Photographer Lighting Secret
Cosmopolitan cover photographer Martin Prihoda uses his Mac and iPad on a studio photo shoot in Mumbai, India:
Martin Prihoda's photo shoot is for the Dec 2010 cover of Cosmopolitan India, with model Jacqueline Fernandez.
iPad + Mac Workflow
So, how would a professional photographer use a Mac and the iPad tablet in his workflow?
On Prihoda's iPad he keeps covers from different issues of Cosmo as reference library, to make sure his creativity won't deviate too much from the client's established look.
Martin shoots Hasselblad H1 at 31 megapixels, tethered to his MacBook Pro (probably with SSD) via Firewire. Not only can he check exposure and composition, his client can also see the images too.
Prihoda also explains his light setup, of how he creates defined shadow without too much light falloff.
Prihoda's Gear:
15″ Apple MacBook Pro [B&H $1,699]
Capture One software for Mac [Amazon, Capture One 6 Pro $399]
Hasselblad H1 (current version: H4D-31 [Amazon3 $13,999])
Hasselblad 150mm Lens [Amazon $3,195 or B&H $3,295]
Profoto 7a pack [Amazon $10,917 MSRP]
Broncolor Para [B&H, $10,616]
Profoto Beauty Dish [Amazon, $362]
PocketWizard [PocketWizard 2 Pack, $338]
Bowens Jetstream Wind Machine [Amazon Link, $1,049 MSRP]
Photographers might want to read Martin Prihoda's blog posts: His greatest photography milestone, talked about his thoughts on learning how to use off camera lighting.
via Martin's blog atomicsafari

Related Posts