Buy iPad 2 at Radio Shack Tomorrow! [store locator]
Radio Shack will start selling iPad 2 on March 29 at limited locations, tomorrow morning! Store locator below.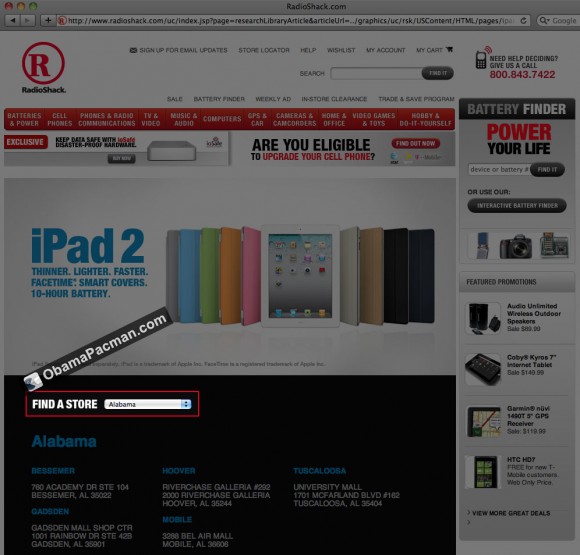 Out of total of over 4,000 stores, five-hundred Radio Shack locations at 37 States and Washington D.C. (and possibly even Virgin Islands and Puerto Rico) will start selling the Apple iPad 2 starting tomorrow morning, March 29, 2011. Macrumors reported that: "Representatives at multiple RadioShack locations have confirmed that they are scheduled to begin offering the iPad 2 tomorrow."
Launch iPad 2 Radio Shack inventory is unknown.
iPad 2 Radio Shack Availability
It appears that only some Radio Shack stores will carry iPad 2 tomorrow. 9to5mac found the hidden page that confirms the iPad 2 launch.
The Radio Shack iPad 2 store locator lists stores at the following locations:
37 states: Alabama, Arkansas, California, Colorado, Connecticut, Delaware, Florida, Georgia, Hawaii, Illinois, Indiana, Kentucky, Louisiana, Maine, Maryland, Massachusetts, Michigan, Minnesota, Mississippi, Missouri, Montana, New Jersey, New York, North Carolina, Ohio, Oklahoma, Oregon, Pennsylvania, Rhode Island, South Carolina, Tennessee, Texas, Vermont, Virginia, Washington, West Virginia, Wisconsin
Washington DC
Puerto Rico
Virgin Islands
Reports of iPad 2 availability at Radio Shack are inconsistent. Some are saying that if the store don't have any, you will be able to order one from their warehouse to deliver at the store in a few days. Other stores are saying that they cannot confirm inventory level until tomorrow morning.
Are you going to line up for iPad 2 at Radio Shack tomorrow? If you didn't find one, there are always the
Target iPad 2 Inventory Tracker, Best Buy iPad 2 Inventory Locator, and Walmart iPad 2 Inventory Tracker.

Related Posts