Best Buy iPad 2 Inventory Tracker
iPad 2 inventory tracker / locator / stock check shows availability at Best Buy stores!
Best Buy iPad 2 Inventory Availability Locator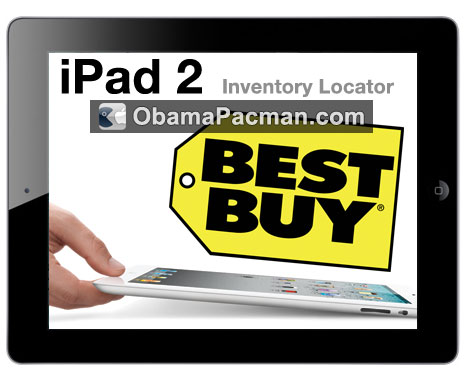 Wondering 'where can I find an iPad 2′?
Updated daily in the early morning, the Best Buy iPad 2 inventory tracker shows availability. The tracking system will change from either "Available" or "Unavailable" to "In Store Only". The inventory is not updated (or slowly updated) throughout the day so checking iPad 2 Best Buy inventory later in the day may show inaccurate numbers.
Note, most stores will say the inventory is for reserved customers only (you will be contacted if your pre-order is ready). Target iPad 2 inventory tracker might be a better bet (or try the Walmart iPad 2 locator). But if you want to chance it, here is the Best Buy inventory tracker for iPad 2 WiFi, GSM AT&T, and CDMA Verizon models in both black and white:
Black iPad 2, Best Buy Inventory Tracker
White iPad 2, Best Buy Inventory Checker / Locator
Note that Best Buy also let customers reserve iPad 2. Reservation is one per person and requires purchase of a $100 gift card as "deposit." However most people haven't heard from their March 13 reservation yet.
Update, March 22: People who reserved on March 13 are now getting phone calls about pickup. Best Buy will hold your iPad 2 reservation for 48 hours. (Note Best Buy stores already stopped taking reservations. Reservations will start again once all current BB orders are fulfilled, our local Best Buy told ObamaPacman).
Update , April 9: *** Best Buy iPad 2 Sales HOLD ***
Update, April 13: some readers are again having success using tracker (you might have to order over the phone with the store)
Out of stock? See our Target iPad 2 Inventory Checker / Locator + Walmart iPad 2 Inventory Locator.
Like the story? Follow us on Twitter @obamapacman or Like Us on Facebook.
Related: Why it's hard to find iPad 2 inventory.

Related Posts