Asian Invasion: Apple Store iPad 2 Lines
Photo of New York Fifth Avenue Apple Store iPad 2 line full of Asian / Chinese scalper puppets.
NYC Fifth Avenue iPad 2 Line: Asian Invasion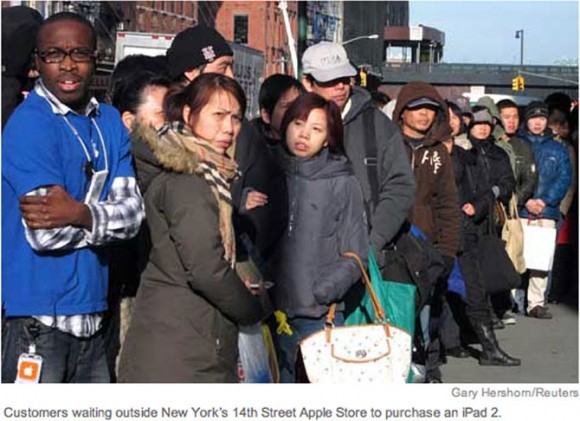 Photo: NYTimes.
Explanation: Why it's hard to find iPad 2 inventory.
iPad 2 Scalpers
Well, it's more than Asians buying all iPad 2 inventory from Apple Stores (although it looks that way in New York City or San Francisco), as there are also plenty of scalping on craigslist and ebay by all kinds of folks.
OP has received reports of scalpers going to Apple Store iPad 2 lines in the early morning (say 4AM in some cases), asking those buying 1 to buy a second one for a meager fee of around $40. Note, these iPad 2 scalpers then charge either $200 more on craigslist locally or more on ebay while wasting legitimate Apple customers' time.
Want an iPad 2? You can try
Target Store iPad 2 inventory locator
Get up early to line up at Apple Store, trying to get there before the scalpers (unlikely if you are in NYC). Note some Apple Stores don't have any new iPad 2 inventory on Monday, as there is no delivery on Sunday.
Buy iPad 2 online at Apple Store if you can wait

Related Posts