Watch the Famous Super Bowl Ads on iPhone [updated]
Some people watch Super Bowl for the entertaining, multi-million-dollar ads. Now there's an App for it on your iPhone, iPod touch, and iPad.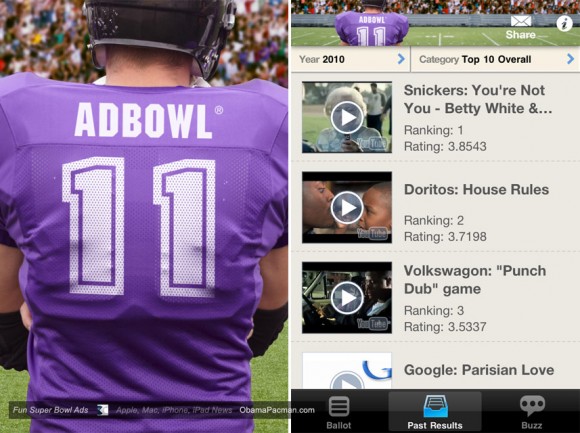 Watch + Rate Super Bowl Ads on iPhone, iPod touch, iPad
Million dollar fail or creative win? AdBowl [App Store], the free iOS app lets you watch and rate the different Super Bowl ads on iPhone, iPod touch, and iPad (at x2 mode).
Before tonight's 2011 NFL Super Bowl (the big American Football game), you can watch top 10 fun commercial winners of previous seasons. The App goes back to 10 years. Recent seasons are mobile compatible, but some of the older videos are missing some support.
Ballot for the Super Bowl 2011 commercials is expected to go live during game.
Other tidbits
Registration is not required, but allows you to rate the videos.
Outside of US? Some say this app will allow you to watch the US only commercials in other countries.
On iPad? You can still use it in x2 mode or go to their website at adbowl.com
Note, the iOS app is the "Official" AdBowl app, not official Super Bowl app.
Update: The ADBOWL "top 10″ results seem to be tampered with, as the E-trade commercial is not funny or interesting at all. The video qualities can differ too, even for the 2010 Super Bowl commercials. It might be better if NFL could upload official versions of the ad themselves.
You can watch videos of the official 2011 Super Bowl commercials here on YouTube.
In case you ran into a boring ad, NFL has an official iPad app with stats, videos, and articles of the 2011 Super Bowl season: [App Store, free].

Related Posts