Verizon iPhone Voice + Data Pricing
Apple releases official Text, Voice, Data plan prices for Verizon iPhone.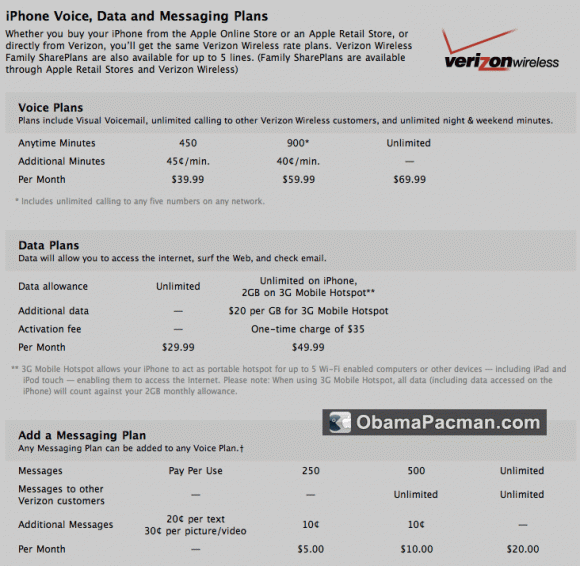 Verizon Voice + Data Pricing
Verizon iPhone voice, data, texting plan prices:
Voice, includes Visual Voicemail, unlimited calling to other Verizon Wireless customers, and unlimited night & weekend minutes:
$39.99 450 Minutes
$59.99 900 Minutes
$69.99 Unlimited Minutes
Data: Access the internet, surf the Web, and check email. Disabled when on phone.
$29.99 Unlimited iPhone
$49.99 Unlimited on iPhone, 2GB on Mobile Hotspot ($35 Activation fee, $20 per GB for Hotspot)
Texting + MMS:
Pay Per Use 20¢ per text, 30¢ per picture/video (MMS)
$5 250, 10¢ per additional message
$10 500, 10¢ per additional message
$20 Unlimited
So it turned out that Verizon WiFi tethering (personal hotspot) is not unlimited after all, as it limits tethering to very expensive prices. However, unlimited voice + data is $100 before tax, if you go without a message plan.

Related Posts