Verizon iPhone 4 Review
Will the Verizon iPhone 4 provide liberation from AT&T? How's the coverage, data speed, battery life, and personal hotspot? Early Verizon iPhone review.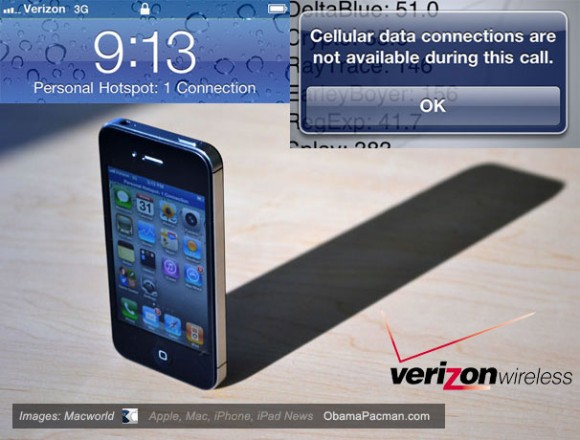 Summary: Verizon iPhone 4 Review
Verizon iPhone, the Duke Nukem Forever of smartphones is about to become available for pre-order.
Here are some early Verizon iPhone reviews, before Verizon network is hammered by iPhone customers on February 10, 2011. So what else is new, besides Verizon CDMA cripples iPhone, by not allowing data use (maps, emails, web pages, weather, stocks, etc) during a voice call?
Basically, Verizon has better voice quality and more consistent coverage due to CDMA. However AT&T has faster data, and has better coverage in some areas.
The new Apple iPhone 4 hotspot feature (on iOS 4.2.6 CDMA / Verizon and possibly iOS 4.3 GSM / AT&T) has WPA2 encryption and seemingly long battery life. But it's a paid feature.
Verizon iPhone 4 Reviews
All Things D, Walter S. Mossberg:
Voice: "At least in the areas where I was using it, the Verizon model did much, much better with voice calls."
Data: "AT&T was more satisfying at cellular data." In terms of speed test, "despite a few Verizon victories here and there, AT&T's network averaged 46% faster at download speeds and 24% faster at upload speeds. Test was conducted in Washington D.C., its Maryland and Virginia suburbs, and for part of one day at Chicago's O'Hare Airport."
International: Verizon doesn't use the world wide GSM standard, so you can't use the Verizon iPhone in most countries outside the U.S.
Verizon iPhone currently offers unlimited data and a wireless WiFi hot-spot (sharing of mobile data with iPad, Mac / PC laptop).
Calls: "Calls were consistently connected and uninterrupted, far more often than our AT&T calls in the same time period in similar locations."
Death grip: "In low connectivity settings, we could get both the AT&T phone and the Verizon phone to dip slightly in bars if we covered the bottom half of the devices with our hands. We did not see any noticeable change in call quality or data quality." (Just like other phones)
WiFi internet sharing, Personal Hotspot: "your calls will kill your connection. That means that if you're loading a page on your computer tethered to your phone and you get a call, the page stops loading and doesn't resume until the call stops ringing, or you hang up. It's a seamless transition, but still a bit jarring."
Data speed: "Verizon device peak much beyond 1.4 Mbps on downloads (and even that high was rare), and it barely hit 0.5 Mbps on upstream. On the other hand, the AT&T device regularly pulled down above 3 Mbps, and 1 Mbps or more going up. We'll admit that the Verizon speeds were more consistent, but the irrefutable fact is that AT&T's network is much, much faster, at least in our neck of the woods."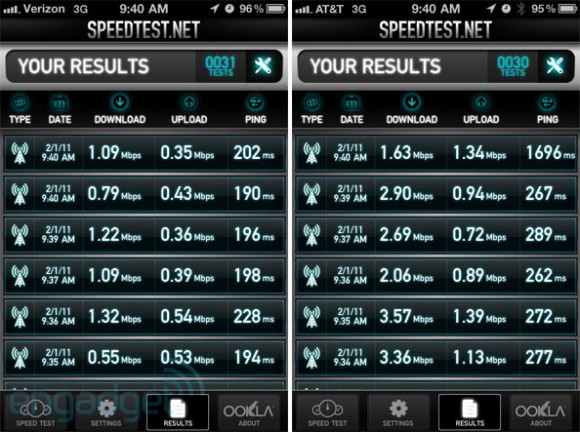 Verizon iPhone hotspot has WPA2 encryption.
Verizon WiFi sharing pricing: "Verizon told Macworld that it will cost you $20 a month to use the wireless hotspot feature on top of your regular voice and data plans."
"One of the pleasant surprises of testing the Personal Hotspot was its range. I was able to connect to the device even from a decent distance away." You can roam around the room or "even an adjacent room."
Verizon "CDMA cellular standard does force this iPhone 4 to take one step back—back to the days of the original iPhone." Verizon device is unable to transmit / receive data and voice simultaneously.
Previously author said it was impossible to make calls at the office, located at SoMa district of San Francisco, now he can. "I made it through the entire 45-minutes without the call being dropped once. Again, this was impossible a week prior."
No death grip: "I death grip the thing, and no bars drop."
"There's no question that AT&T network is faster than Verizon's for data transfers — both up and down."
"The iPhone 4 can give you a solid 4 hours of hotspot/tethering time."
Note, OP Editor didn't have any problems with coverage driving through San Francisco using iPhone turn by turn GPS, which uses mobile data.
Should I buy Verizon iPhone?
So, if the question is: "Should I buy Verizon iPhone?"
Answer is: depends on where you live. In some areas AT&T has better coverage, in others Verizon has better coverage. Generally, CDMA (Verizon) is better for voice, but GSM (AT&T + 90% of the world) is better for data.
Either way, with an iPhone, you would have a great phone with accurate touchscreen and access to the most creative and largest mobile software with the Apple App Store.
via macrumors

Related Posts