Stylish What Cocktail iPhone App Recommends Drinks
Want some help choosing or making a cocktail? There's an iPhone App for that.
What Cocktail, iPhone, iPod touch App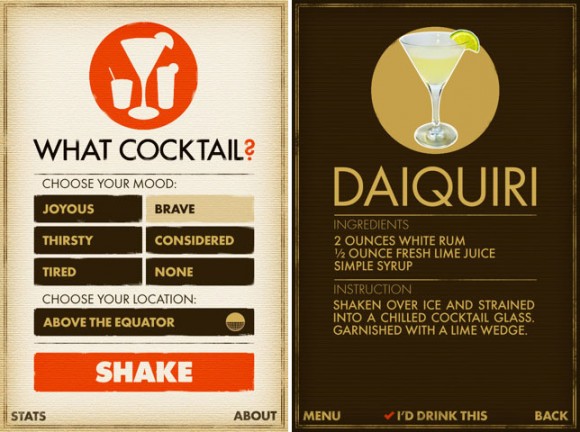 Choose your mood, location, and this iPhone App gives a drink recommendation! With a shake, What CockTail! [App Store] provides one of the classic cocktails, photo, and description. Hit details and see the ingredients and how you can make it, or shake for another drink. Beautifully designed.
To celebrate national margarita day, < rel="nofollow"a href="http://click.linksynergy.com/fs-bin/click?id=Xaq8sUoQ4kQ&subid=&offerid=146261.1&type=10&tmpid=3909&RD_PARM1=http%3A%2F%2Fitunes.apple.com%2Fus%2Fapp%2Fwhat-cocktail%2Fid400784113%3Fmt%3D8">What Cocktail! is on sale, 50% off, for $1 today. Download now!

Related Posts