Steve Jobs + Obama Dinner [Photo]
Photo of Steve Jobs and Obama having dinner with Silicon Valley executives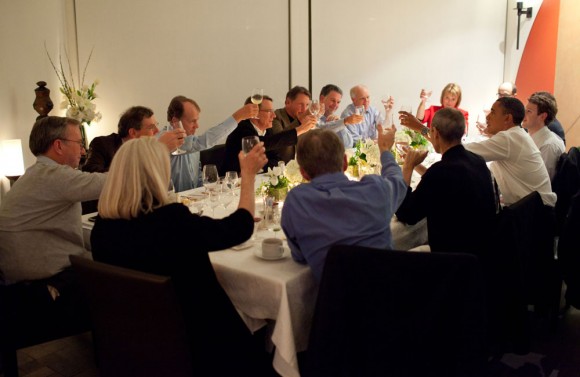 Steve Jobs Obama Dinner
Official White House photo of President Obama's dinner with Silicon Valley tech titans. The dinner took place in Woodside, California last night, Feb. 17, 2011.
Apple CEO Steve Jobs and Facebook CEO Mark Zuckerberg sit at shoulders of President Obama. Dinner's location is not far from Steve Job's demolished Jackling House.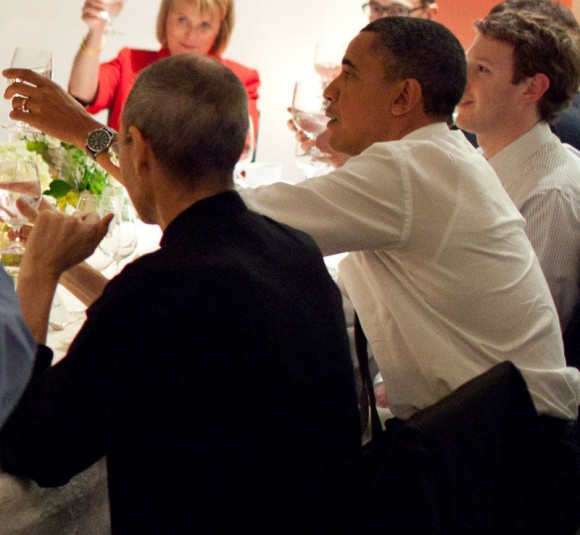 Apple CEO is wearing the official Steve Jobs fashion, his usual black turtleneck. The picture doesn't show whether he's wearing jeans or not. Jobs looks a bit thin, similar to President Obama, but not as ghostly thin as the National Enquirer Steve Jobs "6 weeks" to live photos.
(Ninja) Steve Jobs vs. Eric Schmidt
To the left of Steve Jobs seems to be the soon to be former Google CEO Eric Schmidt. Eric's chair is in a weird way. Instead of facing the table, Schmidt has his chair turned away from the Apple CEO. Is Eric Schmidt (Mr. Android Mission Accomplished), afraid of getting beat up by Ninja Steve?
White House Flickr via thenextweb

Related Posts