Review: Taking Cupi, Animated Cupid iPhone, iPod touch App
Play with animated Cupid and record videos with your own message!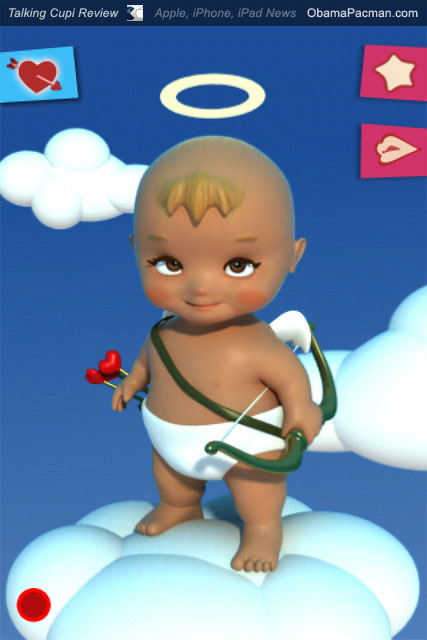 Review: Talking Cupi
Talking Cupi, $1 [App Store] is an app inspired by Talking Tom Cat [App Store]. With this category of Apps, you can play and talk to your character. (Thankfully you don't have to feed them).
With the newly released Talking Cupi version 1.0, the baby cupid seems have 4 touch reactions and 3 buttons that triggers animated actions. You can also talk to the Cupid (Cupi) and it'll say it back in a funny voice.
Talking Cupi (Cupid) Video Demo
Here's a short example about our Cut the Rope girl. Works relatively well. The video contains 3 elements of the Talking Cupi. 1. Idle animation (Cupid waving). 2. Voice talk back. 3. Heart animation.
(If you are a girl, the recording sounds better than the slightly goofy transformed OP Editor voice.) You can email your recorded video easily with Talking Cupi. Being it's Valentine's day today, the server response seems to be slower.
There's a minor recording bug: If you have the app open and lock the screen, you'll run into some problem with Talking Cupi. Happens with iPhone 4, iOS 4.1. To fix it, just force quit and relaunch.
Talkin Cupi vs. Talking Cupid, Talking Tom Cat
How does talking Cupi compared to some other Apps?
First, there is another newly released app called Talking Cupid [App Store]. It is made by the creators of the excellent iPhone shooter game Battle Bears [App Store]. They also made Talking Huggable and Talking Panda. Based on testing on iPad on these apps, the sound quality is not as good as Talking Cupi. And these Apps requiring iOS 4.2.
Voice quality of Talking Cupi is similar to Talking Tom Cat, but it's better than apps from makers of Talking Cupid. In terms of interaction with your character / pet, talking Huggable / Panda / Cupid wins, by having game-center support / achievements. Talking Cupi includes heart, stars, kiss animations with the App. There could be more, but typically other developers sell additional animations for an in-app purchase anyway.
In terms of Valentine cuteness? Talking Cupi is probably up there, so download if you are into these kind of apps.
Download: Talking Cupi [App Store], $1. Works on iPhone. iPod touch requires headset with microphone. Also works on iPad.

Related Posts