Order Verizon iPhone Online Now
"Iconic" Verizon iPhone now available for on-line orders, from VZ website and Apple Store.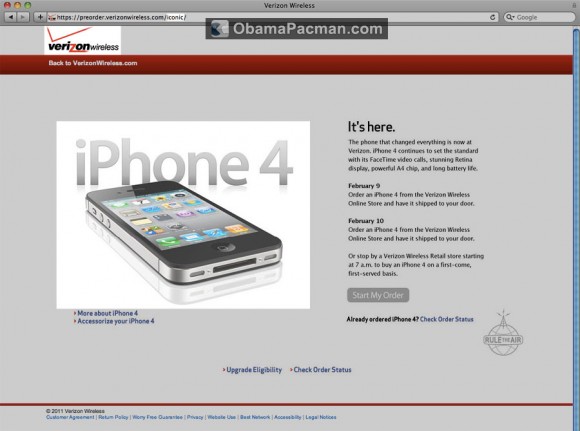 Verizon Wireless and Apple opened Verizon iPhone pre-order today to the general public. Verizon even calls it the Apple iPhone "iconic" in its order URL.
Order Verizon iPhone today, February 9, to have it shipped to your door. Apple Store also offers free shipping or ins-store pickup beginning February 10. Or stop by Verizon store, Apple Store, Best Buy, and Wal-Mart tomorrow Feb 10 to order in person.
Get the 32GB or 16GB CDMA Verizon iPhone 4 with 2-year contract for $299 / $199 or month-to-month with no contract for $749, $649 from Verizon Wireless or Apple Store.
Verizon iPhone 4 Record Sales
There is a huge demand for the real Apple iPhone on the US largest CDMA carrier. Last week, Verizon customers were able to pre-order the Apple smartphone, resulting in record Verizon iPhone 4 sales.
The Verizon iPhone online order from Verizon Wireless is already backlogged to Expected Shipment Date: 02/18/2011. So expect long lines at the stores. Good news and bad news for iOS and Android indeed.

Related Posts