Nokia Investors: Plan B Challenges Microsoft Windows Phone (Hoax?)
"9 young shareholders" smartly highlight why Nokia transition to Microsoft OEM is bad for business. Those investors got bought out / silenced in record time.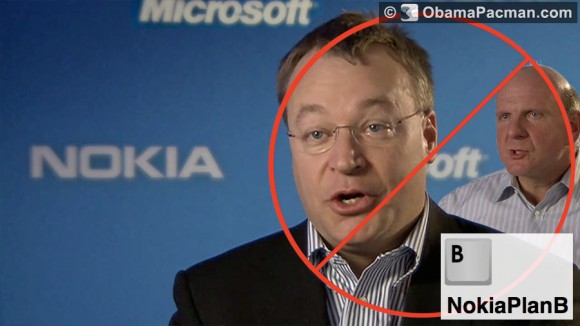 Can you smell the NokiaGate? Here's the story of Nokia Plan B, a tech story that stinks of Watergate styled cover up.
Windows Phone Announcement Devalues Nokia
The recent Microsoft Nokia partnership announcement has resulted in many reactions, including significant de-value of the Finnish company. As Nokia Plan B describes, "Nokia stock has lost one quarter of its value since the announcement of the Windows Phone strategy".
Nokia Plan B
Supposedly, to avoid seeing Nokia become another (failed) Palm, "9 young shareholders" produced Nokia Plan B to save the Finland company from Microsoft puppetry.
Some of the goals of Nokia Plan B include:
"Avoid at all cost becoming a poorly differentiated OEM with only low margin, commodity products that is unable to attract top software talent and cannot create shareholder value though innovation."
"Immediate discharge of Stephen Elop from his duties as President and CEO of the company. Appointment of a new CEO with an international mobile industry background."
(Stephen Elop is a former Microsoft executive who headed the Business Division. Elop is now CEO of Nokia but still owns significant amount of Microsoft stock. Conflict of interest, anyone? Those Nokia shareholders surely think so.)
The arguments make a lot of sense and resonate with analysts and other Nokia investors. Even the Wall Street Journal mentioned the Nokia Plan B shareholder revolt, alongside the story of Nokia employee union demanding a big payout to every laid off worker in Finland.
Nokia Plan B: Ended, Hoax?
Unfortunately, Nokia Plan B ended abrutly after 36 hours. On Feb 16, 2011 nokiaplanb.com posted: "We are no longer pursuing this plan."
The original excuse? "After reviewing the feedback we've received from investors on our Plan B, we have decided not to carry on with it. …" Later in the day the Facebook group was deleted. All tweets deleted. And the entire NokiaPlanB.com website was deleted.
Why are all those statements deleted? Because they are NOT consistent with the final communication, in the form of a tweet: "there are no 'nine young investors', just one very bored engineer who really likes his iPhone"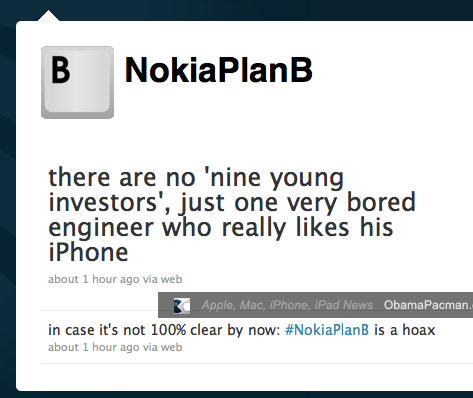 That does not make sense. Sounds like some bad PR department is working to clean up the mess and can't get the story right. They first tried to sell that institutional shareholders do not hold the same belief. Then they tried to blame it all on an iPhone user. Is that something Microsoft would do? How much do you think Nokia Plan B investors got paid by Microsoft to stay silent?
Conclusion
So investors are just going to let Nokia Symbian, Meego, and Ovi meet its end? Or will there be a fight come next shareholder meeting in May? Now that Microsoft is in charge of Nokia's phone OS, when do you think employees at Nokia's Symbian and Meego OS will be laid off? When will the Nokia Microsoft partnership fail?

Related Posts