National Enquirer: Steve Jobs Has 6 Weeks To Live [Analysis]
Doctor says Apple CEO Steve Jobs has 6 weeks to live. Investigative journalism or sensational story? The ObamaPacman.com analysis.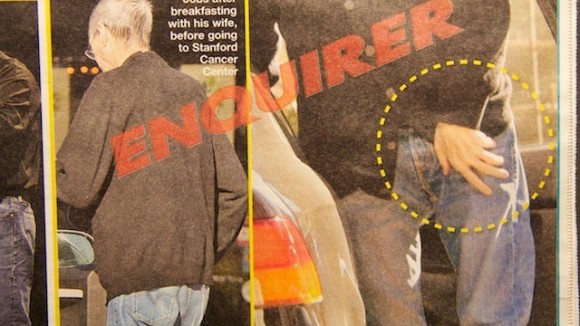 National Enquirer: Steve Jobs Has 6 Weeks To Live
Based on February 8th photos taken outside the Stanford Cancer Center, National Enquirer described:
"Shocking photos obtained exclusively by The ENQUIRER show the 56-year-old cancer-stricken computer genius has become rail-thin and heartbreakingly weak in recent days despite putting up a tremendously courageous battle."
By the Enquirer's point of view, it doesn't look good. In mid-2004, Steve Jobs was diagnosed with a rare form of pancreatic cancer (one that is not terminal, doctors said at the time). Enquirer: "Only about 4 percent of patients with any form of pancreatic cancer can live longer than five years."
The publication has critical care physician Dr. Samuel Jacobson comment on the photo of Steve Jobs: "The poor guy! Judging from these photos, he is close to terminal. I would say he has six weeks. He is emaciated and looks to have lost a lot of muscle mass, which spells a poor prognosis."
Based on the Enquirer photos, another doctor claimed doom. Dr. Gabe Mirkin, a radio talk show host, made his remote diagnosis based on a paparazzi butt photo. Neither doctors are oncologists, nor have they treated or seen Steve Jobs in person.
National Enquirer: Track Record
But is it a story of fiction? National Enquirer, recently broke a story of John Edwards' affair with Rielle Hunter. Due to the Edward story, Enquirer is now a publication eligible for consideration for the Pulitzer Prize.
Enquirer recently also had a major celebrity health revelation. In January 2009, the Enquirer reported that pop star Michael Jackson was gravely ill and had "6 months to live."
So the Enquirer do break a few stories, but more on an annual timeframe. Weight the rare scoop against numerous sensational stories that may or may not be so accurately fact checked, and their success ratio is not so high. Sometimes their bar for publication is set too low. Note that, due to libel laws, the National Enquirer website is blocked from some countries.
Hopefully this won't be the National Enquirer scoop of 2011. Instead, we hope they are reporting a scoopertino story.
Steve Jobs and other Silicon Valley executives are scheduled to meet with President Obama tonight in San Francisco. Do you think we'll see Steve there? We'll know the Enquirer is accurate if you see the Apple CEO starts duking it out with the former Google CEO Eric Schmidt tonight.

Related Posts