Mil-Spec Designed Water-Proof Thin iPhone Case
Lifeproof: Water, dirt, snow, & shock proof iPhone case, designed to military specifications that weights less than an ounce!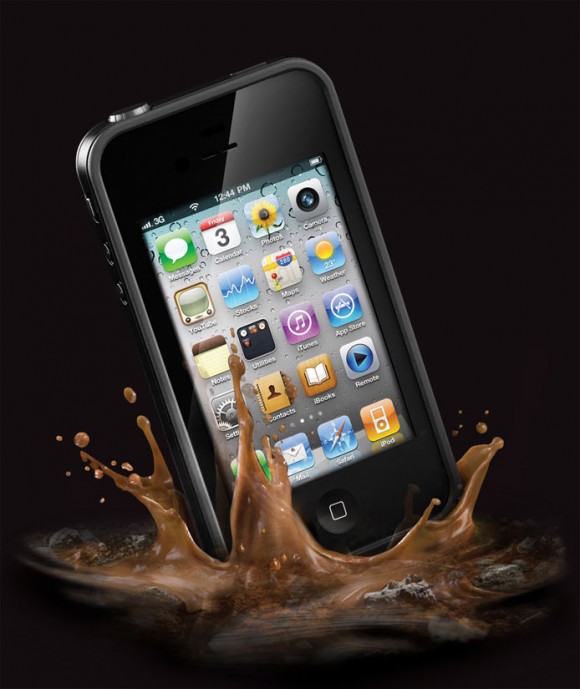 Water-Proof, Sand-Proof, Snow-Proof, Shock-Proof iPhone Case
Water, sand, and shock proof devices cases typically are thick and chunky. Not this iPhone case from Lifeproof, thin and styled similar to the Apple iPhone 4 Bumper Case. The unobtrusive case adds only 0.06 (1/16) inches or 1.5 mm to the depth of the iPhone.
The Lifeproof iPhone 4 case will survive swimming up to 6.6 feet / 2 meters (full IP-68 rating). It can be used with optional adapter / waterproof headphones underwater. Anti-reflection coating optical glass provides clear view.
It's no fragile beauty. The impact-proof iPhone case has a high degree of shock and impact protection—tested to Military Specifications MIL-STD-810F-516.5 (2 meters/6.6ft drop on all surfaces and edges. 26 tests).
It is also fully sealed against dirt, sand, and minute dust particles. All features are operational in the case.
Video: Water Proof / Drop Proof iPhone 4 Case Demo
Demo video from the beach. Sand + water + iPhone 4 ocean drop, oh my:
iPhone 4, 3GS, 3G, iPad Water Proof Impact Resistant Case
The mil-spec case for iPhone 4 is available for pre-order for $69.95 from Lifeproof. iPad version coming soon too with price to be announced. They have a case for iPhone 3G / 3GS, and are expected to design a water proof iPhone 5 case in the future.
Perfect iPhone 4 case for swimmers, snowboarders, surfers, snipers (with iPhone sniping calculator), etc? Do you think Olympic swimmer Michael Phelps would use this for swim practices?
LifeProof iPhone 4 Case via theiphoneguru via

Related Posts