CAN Touch This: MC Hammer Launches Latest Single on iPad
World premiere of iPad exclusive music single launch through Flipboard? MC Hammer CAN touch this.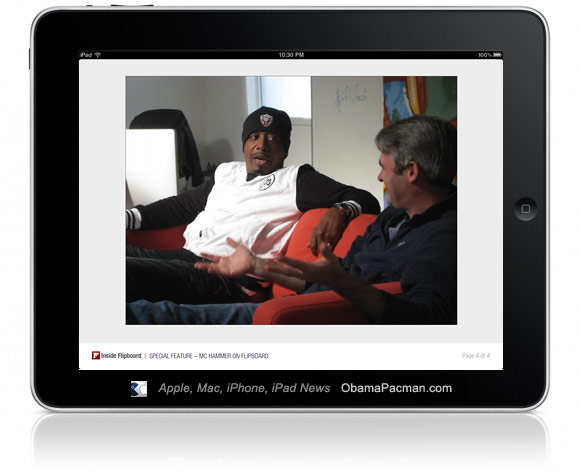 MC Hammer iPad Music Launch: "See Her Face" Single
The rapper and entrepreneur is launching his latest single on the iPad. MC Hammer is working with the Flipboard, a popular and FAST iPad App that can make social media such as Facebook and Twitter, plus content from select website look like magazines.
MC Hammer even went on Oprah to announce his new song "See Her Face," as it goes live on Flipboard earlier this month on Feb 3, 3PM PT.
The song world premiere is a collaboration between MC Hammer and Flipboard. MC Hammer "was excited about how Flipboard brought his Twitter stream to life. He saw the potential of what a social magazine could mean for musicians and wanted to work with us on this project." According to Flipboard spokesperson.
Flip aims to bring content owners and publishers on board as partners to product and distribute content on the iPad App.
iPad Users
If you got Apple's magical tablet then:
Download Flipboard [App Store]
Add channel, and look for "Hammer," MC Hammer's channel on Flipboard.
Flip to story, "World Premiere: See Her Face":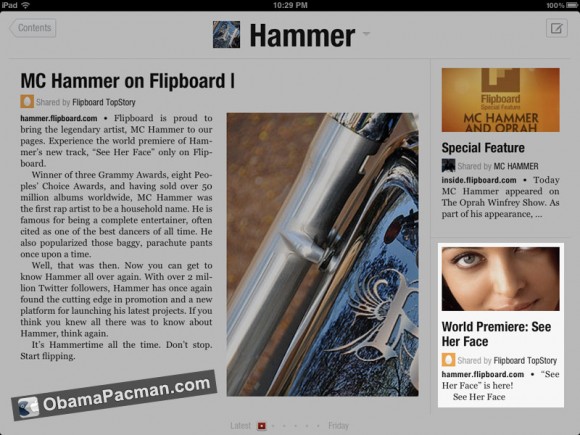 Non iPad Users
Are you going to experience a "Can't Touch This" moment if you don't have an iPad? Fortunately Flipboard provides a sharing feature on iPad, so you can access the HC Hammer on your iPhone or computer browser from flipboard site.
Video: MC Hammer, Hammer Time Flash Mob
Do you think the iPad world premiere of MC Hammer's song beats Hammer Time flash mob:

Related Posts