Mac OS X 10.7 Lion: Migration Assistant from a PC
Switching to a Mac from a PC? Apple is making it even easier with Mac OS X 10.7 Lion, available in summer 2011.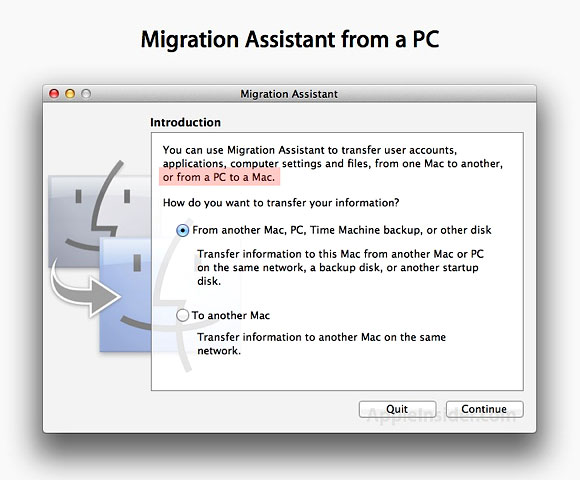 Mac vs. PC, Data Migration
Ever wonder, how do I transfer all my data to a new computer? What if I get a Mac?
For years, Apple's Mac OS X has been helping Mac owners transfer data to a new computer effortlessly, with built-in app "Migration Assistant." But what about those who are abandoning their slow PC?
Currently, Apple Store will transfer your data from your PC to your new Mac. But looks like the process is about to get easier for those stuck on sluggish Windows.
10.7 Lion Migration Assistant from a PC
Developer preview of the new Mac OS X 10.7 Lion reveals Apple is enhancing the software to makes switching to a Mac even easier. From the sound of it, you install the MigrationAssistantSetup.exe program, and do the same on your new Mac.
Hit a button, and the Apple app will help to transfer "my" documents, "my" pictures, and other data to a fast and snappy Mac. Apple's software is also expected to easily transfer iPhone, iPad, and iPod data from PC iTunes to the new Apple computer.
Coming this summer with 10.7 Lion and new Apple computers.
via cultofmac

Related Posts