Jailbreakers Already Working on iOS 4.2.6 Verizon iPhone Firmware
Apple just posted CDMA Verizon iPhone iOS 4.2.6 Firmware [download], and jailbreakers are already working on it.
MuscleNerd Posts Verizon iPhone 4.2.6 Firmware Keys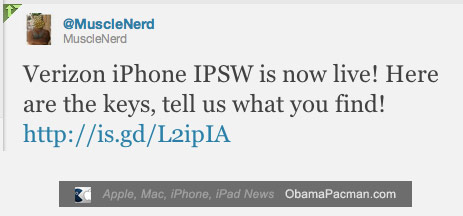 Retweeted earlier today by @obamapacman, iPhone jailbreak MuscleNerd announced: "Verizon iPhone IPSW is now live! Here are the keys, tell us what you find! http://is.gd/L2ipIA"
Good stuff. Too bad you can't unlock any CDMA Verizon phone to work on other carriers, as CDMA is limited to 10% of the world. In related Jailbreak news, jailbreaker Pod2g announced that Universal 4.2.1 out of box (OOB) jailbreak is in the works.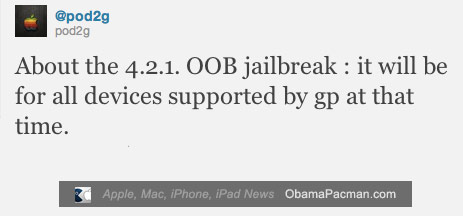 Maybe we have to wait until after iOS 4.3 release? Hopefully we won't have to wait until the liquid metal iPhone 5.

Related Posts