iPad 2 Media Event / Apple Keynote Rumored for March 2
iPad 2 delayed? Not quite. New report points to special Apple iPad 2 media event next week on March 2.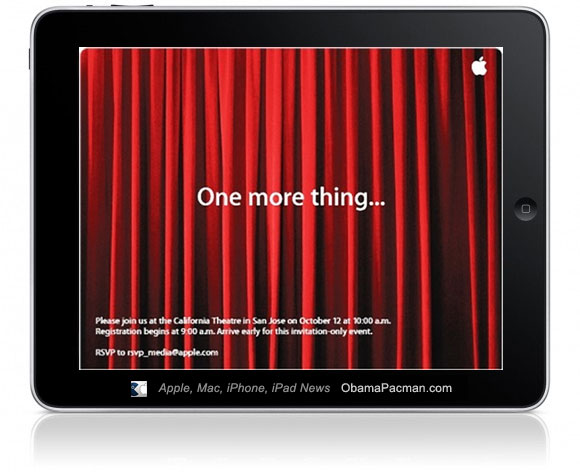 Apple iPad 2 Keynote Media Event: March 2, 2011
Citing "multiple sources," All Things Digital: "Apple will hold its much-anticipated event on March 2, where the tech giant seems poised to unveil a new version of its hugely successful iPad."
The iPad 2 media event is expected to take place in San Francisco. Apple usually has special media events at Yerba Buena Center for the Arts. But currently there are no events listed on their public calendar for March 2. Maybe it's happening at Apple's Cupertino campus?
The 2011 iPad 2 is expected to be thinner, lighter, and contain more features, maybe even a built-in FaceTime capable camcorder. Just like the iPod domination, the Apple tablet is expected to beat all the copyPad yet again. Do you think Steve Jobs will be there to head an Apple Keynote?
via allthingsd
Image compilation of previous Apple "One More Thing" event invitation with iPad made by ObamaPacman.com

Related Posts