HP Kills Palm, "Invents" WebOS TouchPad (iPad CopyPad)
Today, HP axes Palm brand, announced that it "invented" WebOS TouchPad, which copies the 1 year old iPad.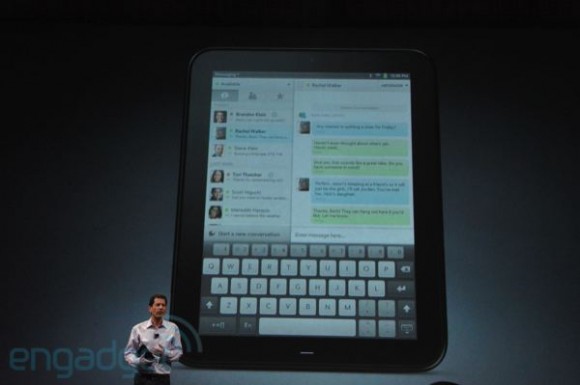 HP Invents Steve Jobs Keynote Knockoff
Today, HP copies Steve Jobs iPad Apple Keynote presentation, iPhone 4 keynote FaceTime video call, and iPad tablet. But instead of a presentation of substance, HP can't help but to dangles some vague business speak such as "Synergy is not just a design philosophy — it's HP's central motivation."
Besides speaking of synergy, HP's droning employees also introduced new generic slogan: "everybody on." HP also employees Microsoft styled vaporware, announcing no pricing, no battery life, and no release date for its iPad knockoff.
HP Innovation
HP on touchPad: "HP is bringing innovation to customers."
Engadget: "The email app looks almost identical to iOS."
OP Editor's take: good amount of the HP's iPad copyPad (um touchpad) shown in the presentation seems to be copied from the 1 year old Apple tablet. HP even the copied the iOS keyboard hiding icon almost exactly. So much "innovation" there.
By the way, in terms of pirating, HP is way behind Chinese and Google counterfeiters:
So, what has HP "invented" lately? It bought Palm and webOS, and tries to sell it under its own brand. Here're the HP touchPad details:
HP touchPad (iPad copyPad)
The Dilbert Committee is surely working hard at HP. Almost exactly 1 year after Steve Jobs introduced the Apple tablet, HP presents its new iPad knockoff today.
It's main innovation? HP figured that it might have a shot by combining the names of two Apple products (iPod touch and iPad) to form the TouchPad name. HP TouchPad basically took a mold of the Apple tablet and put Palm webOS over it. The HP device copies iPad's 9.7-inch 1024 x 768 display, form factor, and hybrid case / stand.
But the 2011 HP touchPad will use a battery smaller than the 2010 Apple iPad. HP is too cheap to release a 64 GB version either.
Unlike the Apple iPad Keynote, HP's knockoff did not contain any mention of battery life, price, or release date. For a product release date, HP apes that of the Dell Streak or the HP Slate, using vague "summer." That is likely to be many months after Apple introduces the genuine iPad 2.
AGAIN: just like other tablet vaporware (aka do not test an actual device for battery life / or that it sucks), HP touchpad did not announced its battery life.
[Written by ObamaPacman, sources engadget via 9to5]

Related Posts