HP Disclaimer: WebOS TouchPad "Could Differ Materially"
Official HP disclaimer: "HP assumes no obligation" for "forward-looking statement" such as its TouchPad (aka iPad CopyPad).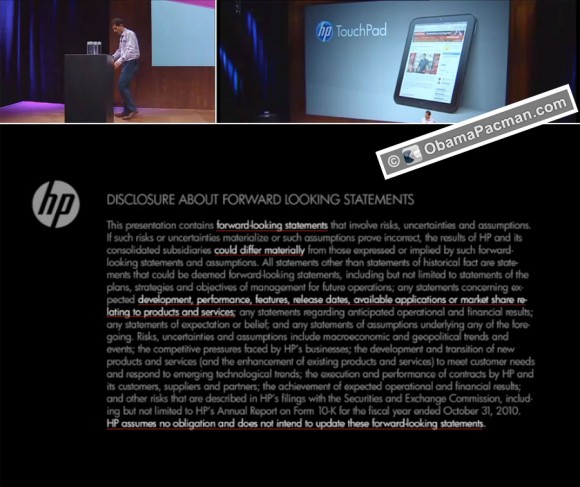 Video: HP TouchPad (iPad CopyPad) Event
After failing to ape the original iPhone, the HP purchased Palm division promised another Apple killer again this week at its TouchPad (iPad copyPad) media event. Here's the almost 2 hour official HP WebOS TouchPad video. Warning: may cause boredom and drowsiness.
Fast forward to 21:30 to see HP's iPad knockoff. The best part? The disclaimer at the very end:
HP TouchPad Tablet Disclaimer
"This presentation contains forward statements that involve risks, uncertainties and assumptions" that "could differ materially from those expressed of implied."
"All statements other than statements of historical fact are statements that could be deemed forward-looking statements…including… any statements concerning expected development, performance, features, release dates, available applications or market share relating to product and services"
The HP TouchPad even video disclaimer concludes with: "HP assumes no obligation and does not intend to update these forward-looking statements."
So, introducing a iPad knockoff that HP may or may not deliver. HP is delusional after all.

Related Posts