HP is Delusional
Today, a delusional HP executive, former Palm Pilot CEO Jon Rubinstein, shows a slide that claims "We are the Champion" in OS Bowl 2011.
Delusional HP: Palm Pilot WebOS Will Beat iOS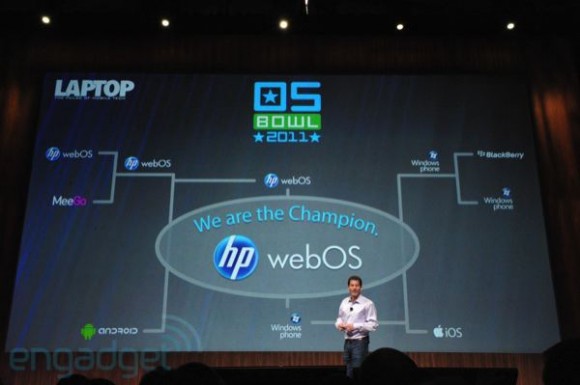 At the HP iPad CopyPad (TouchPad) event today, HP shows it has a few screws loose.
The delusional slide shows the wild speculation that HP's re-branded Palm webOS will beat Nokia MeeGO, dead end Google Android, Microsoft bulky button Windows Phone, AND Apple iOS all within 2011.
Keep in mind WebOS, formerly touted by Apple hating shills as the iPhone killer, did not save Palm from going bankrupt. Thus, a re-branded HP PalmPilot in a tablet form factor is unlikely to win any significant iPad sales. Buying Palm webOS is not an invention either, never mind that the HP iPad knockoff won't arrive until the second half of 2011. Note to HP / Rubinstein: you missed April fools by 2 months.
Maybe HP is hoping to beat Microsoft CEO Baloney Ballmer as the champion of crazy?
[Written by OP Editor. Photo via engadget]


Related Posts