FAA Approves iPad as Pilot Electronic Flight Bag
iPad as pilot's aeronautical paper charts replacements? There's an App for that.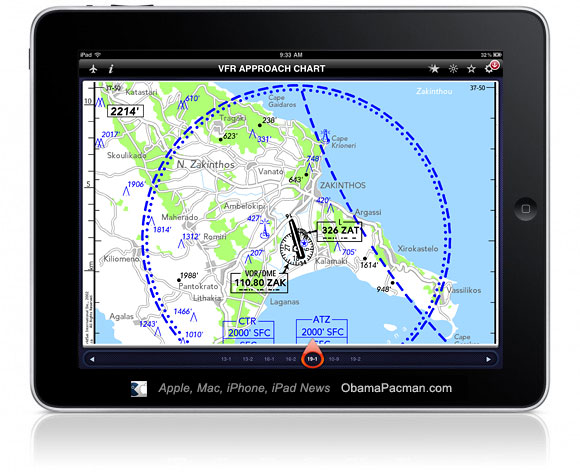 iPad Pilot Electronics Flight Bag
Apple iPad tablet, running Jeppesen Mobile TC App [App Store], just received FAA authorization for portable, kneeboard Electronic Flight Bag (EFB) use. The App is free, but requires a valid subscription to work. The iPad should be secured and viewable during critical phases of flight for the Class 1 portable EFB.
iPad FAA test result highlights:
Successful rapid decompression test on iPad to 51,000 feet in altitude
Successful iPad non-interference test on the evaluation aircraft
Wait, does the non-interference compliance mean that we can pull out the FAA certification on an iPad, the next time when commercial airliners say: turn off all electronic devices? (Hint: we recommend you NOT risk it, but if you are successful enough, your and your iPhone / iPad can always Fly Like the G6).
iPad EFB Ease of Use
FAA and pilots embrace the iPad future, because "it just works":
"Pilots participating in the evaluation reported that they were particularly pleased with the App's ease of use, simplicity to manage, speed and display clarity." – Jeppesen Mobile
Some features of the iPad Jeppesen Mobile TC for airplane pilots:
Vector-based full colored charts downloads
Offline / airplane mode access of downloaded charts
View in both portrait and landscape mode
Airport search, terminal chart browsing, favorites list
Brightness control for flying at night
Data from the evaluation might help gain future authorization for Class 2 mounted configurations utilizing iPad. When do you think we'll see the DIY iPad car mount in an airplane?
via jeppesen

Related Posts