DIY Valentine's "Cut the Rope" Bikini: Removable!
Make the ultimate DIY Valentine's day game: a sweet, real life "Cut the Rope" bikini. Templates + how to instructions.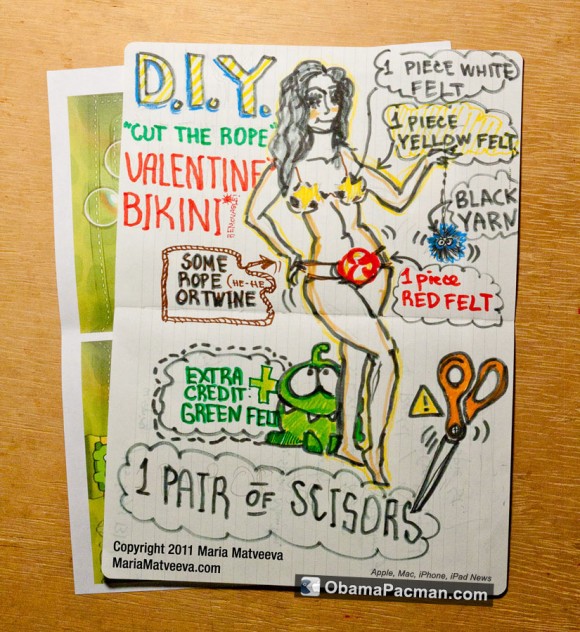 This DIY guide is created by designer Maria Matveeva, for ObamaPacman.com, of her favorite iOS game.
DIY: Cut the Rope Game in Real Life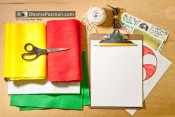 Are you or your Valentine a fan of Cut the Rope? Use this deliciously hands-on recipe and celebrate in style! This DIY Cut the Rope project creates a stars bikini top with rope strings, candy + heart bikini bottom, and a fuzzy ticklish Spider. And some real life rope cutting fun.
You will need:
Very basic sewing skills
(Maybe a glue gun could do the trick. Let us know how it goes.)
Scissors
Thread and needle
Pins
Felt in white, red and yellow
Get sheets of craft felt, about 30¢ each, at the craft store, or buy 1/4 yards of felt fabric.
Rope or twine
Old bra or bikini top
Small piece of cotton fabric for your undies (optional – I used an old tee-shirt)
Printer (optional – you can draw the shapes yourself)
About 2-3 hours, depending on how neat you want the sewing
Extra credit #1: a roll of black yarn or thick thread to make the spider + something the size of a pack of gum
Extra credit #2: green felt for Oh Nom the adorable monster (idea: slippers? Incomplete)
How to Make DIY "Cut the Rope" Bikini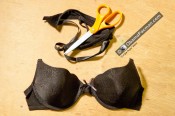 1. Cut off the straps!
You were no longer wearing it anyway.

1a. Details: cut off the straps.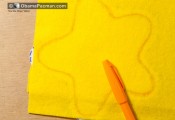 2. Trace the stars on yellow felt and cut out.
Mine was transparent enough to see the drawing outlines through it. If yours is not, try using a window as a lightbox to trace, or cut the shape out of paper first.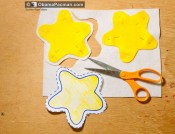 3. You can download Stars Pattern [168KB zipped PDF]
Print to US letter paper or shrink them for even hotter project.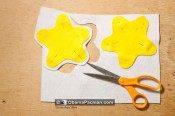 3a. Pin the yellow felt onto the white and cut out.
Leave an outline of white to make the stars really glow!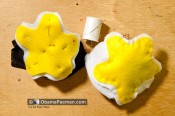 4. Pin the stars to your bra cups, if using.
It will look better if they are fairly symmetric. Point the top of the star up and out, about the direction your strap would go.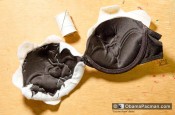 5. Sew on the stars. Remove pins.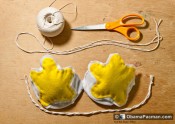 6. Twist some twine!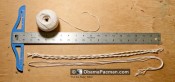 7. Set strap length. Your mileage may vary.
You will need six pieces, about a foot and a half long.
You can always cut off the extra later, so make them longer if not sure.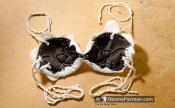 8. Attach the straps to the inside of the bra.
The double straps on the sides are optional, but they help this thing fit better, stay on, and give lift.
If you're doing double straps, tie the bottom pair around your back as normal. Then, pass the top left one behind, across your back and to the neck strap on the right.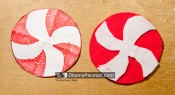 9. Now, a tasty candy bottom!
Cut out and sew on the red candy shape from white and red felt.
Download Candy Pattern [127KB zipped PDF]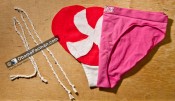 10. Check for size
Compare to an existing bottom that fits you well to see how much fabric you need for the crotch. Then, cut out a heart shape to roughly cover the backside.
Cut four more pieces of rope or twine.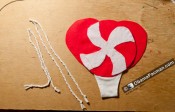 11a. Sew your bottoms together and attach the rope!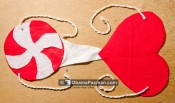 11b. You are done! Go dance in front of a mirror for a while!
BONUS: Fuzzy Ticklish Spider, DIY Cut the Rope Accessory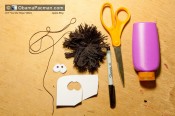 1. Want extra credit? Make a fuzzy ticklish spider!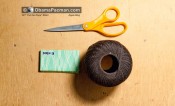 2. Wrap some yarn around a pack of gum, or a similar size object.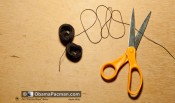 3. Pull off, tie in the center, and cut off excess string

4. Cut the sides, fluff out to spider shape.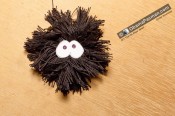 5. Add the eyes!
Glue on a piece of cardboard or a small piece of the white felt, and draw. Or attach googley eyes.
Real Life Cut the Rope Game
See the photos at our article of real life Cut the Rope photo shoot!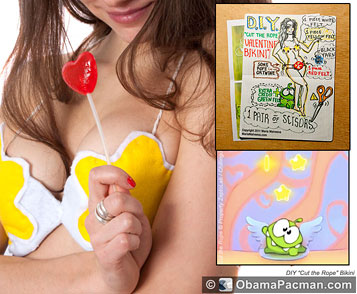 Here's the Zeptolab / Chillingo iOS game for iPhone, iPad, and iPod touch that inspired it all (Download Cut the Rope for iPhone + iPod touch and iPad):
If you like this article, Subscribe to Us for the latest Apple news & arts!

Related Posts