AT&T Gifts Select iPhone Subscribers 1,000 Rollover Minutes
Select AT&T iPhone subscribers are getting text messages to get their free 1,000 rollover minutes.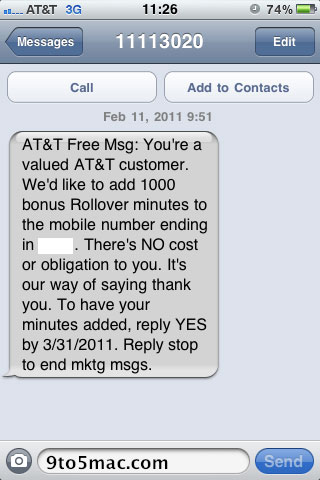 This promotion seems to an AT&T bonus designed to keep some iPhone customers from jumping ship to order Verizon iPhone. If you got the text message, answer "yes" by March 31, 2011 to get the 1,000 rollover minutes, at NO cost or obligation. 9to5mac reports.
Even if you didn't get the promotional text message, some people said texting 11113020 with "yes" will you get the confirmation message:
"Thank you for accepting our free 1000 bonus Rollover minute offer. Please allow up to 4 weeks for processing."
Note, this seems to be a one time gift, not an additional 1,000 free minutes per month to your plan.

Related Posts