Apple Launches App Store Subscription Services
New Apple service makes it easy for publishers to add one-touch subscriptions for iPad, iPhone, and iPod touch.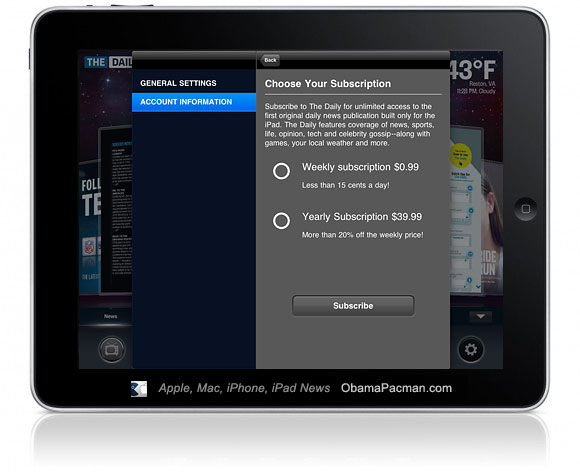 Apple Subscription Services
Apple brings its successful iTunes Store and App Store business model to the publishing industry. Summary of Apple's new subscription service:
Publishers set the price and length of subscription (weekly, monthly, bi-monthly, quarterly, bi-yearly or yearly). Customers can subscribe with one-click within the App. Subscriptions can renew, and customers can renew or drop subscriptions easily.
Apple process payments, deliver the content, and keep the same 30 percent share for in-app purchases. (Same as the successful Apple iTunes Store and App Store)
If a publisher offer a subscription service, the same (or better) offer can be made within the iOS App.
Publishers can offer free access to existing subscribers. Existing subscribers are not charged by Apple.
Customer privacy: Apple protects user privacy by default, just like App Store. Customers can optionally op-in to provide name, email address, and zip code to publishers when they subscribe.
Steve Jobs on App Store Subscription Service
"Our philosophy is simple—when Apple brings a new subscriber to the app, Apple earns a 30 percent share; when the publisher brings an existing or new subscriber to the app, the publisher keeps 100 percent and Apple earns nothing," said Steve Jobs, Apple's CEO. "All we require is that, if a publisher is making a subscription offer outside of the app, the same (or better) offer be made inside the app, so that customers can easily subscribe with one-click right in the app. We believe that this innovative subscription service will provide publishers with a brand new opportunity to expand digital access to their content onto the iPad, iPod touch and iPhone, delighting both new and existing subscribers."
Basically, if publishers are charging for subscription, they are required to add the new official App Store method within the App. Read up full details at Apple.
Logical vs. Greedy Publishers
Some publishers are embracing Apple's subscription service. One prominent example is Rupert Murdoch's billion dollar News Corp. owned "The Daily" [App Store], an iPad-only daily news paper.
However, some greedy publishers are resisting and calling it the Apple tax. Why? Here's what they think they are entitled to:
- Access Apple's successful iOS customers (for free)
- Use Apple's App Store distribution infrastructure (for free)
- Keep all profits (0% to Apple)
- Keep buyer information, to profit from selling it (0% to Apple)
The greedy publishers want all the benefits but doesn't want to pay for customers gained through the Apple App Store. Are these publishers unreasonable slimeballs or what?
Question: App Store Subscription Future
Apple already revolutionized the music industry and mobile software business. Can Apple revolutionize the publishing industry with this new business model?

Related Posts