Angry Birds Super Bowl Ad Easter Egg: Secret Level Code
Secret code for Angry Birds level + football golden egg, hidden in Super Bowl ad.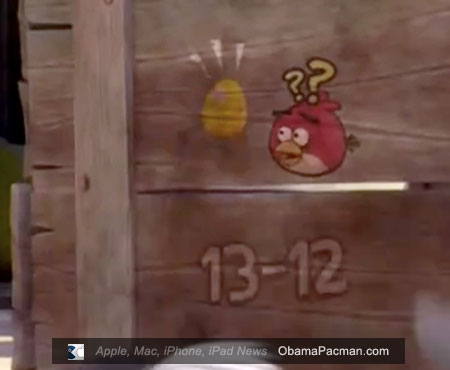 Video: Super Bowl Angry Birds Movie Easter Egg
In the trailer for Rio the movie (created by makers of Ice Age), Rovio, maker of Angry Birds, hidden the secret code for the location of the new Super Bowl inspired golden egg:
Angry Birds SECRET LEVEL CODE
Those with eagle eyes might see the brief Rio movie trailer easter egg around the 26 second mark. For less than a second, the famed red bird, a golden egg and the the secret code of 13-12 are seen on a wall.
The Angry Birds secret code is the number of a level in the new western styled "HAM 'EM HIGH" free update (homage to Clint Eastwood's Hang 'Em High
). The new level pack features Cut the Rope inspired objects hanging on ropes, which can be cut by the slingshot launched flying birds.
To discover the new golden egg, "shoot a white bird backwards and then drop an egg. This will unlock a new football-shaped golden egg in the Golden Egg menu in the game." Mashable describes.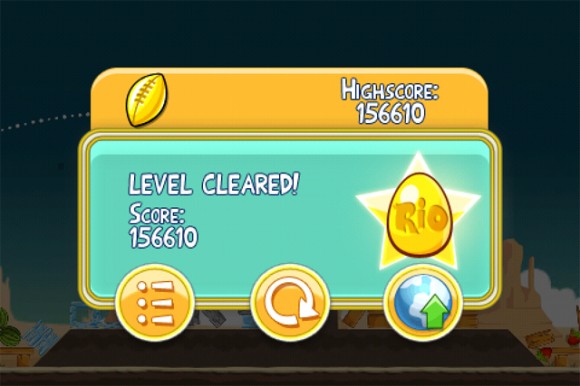 Found the secret code, beat the level, now what? The promo material says "Complete that game level and players will have the opportunity to enter a contest to attend the Rio movie premiere." But how?
The Super Bowl trophy styled Golden Egg unlocks a new secret level. We are guessing that the contest entry info will be available after you beat the new golden egg level?
The winner will get to attend RIO's world premiere in Rio de Janeiro, Brazil on March 22, 2011.
Here's OP Editor's summary of the Angry Birds Super Bowl Easter Egg:
1. Download Angry Birds [iPhone, iPod touch, $0.99 + iPad, $4.99]
2. Play level revealed by Secret code
3. Get football trophy Golden Egg
4. Play secret Rio level, under the golden egg menu
5. Enter contest
6. Profit? (or get to walk on red carpet)
Angry Birds Rio, the Game, Trailer
Trailer of new Angry Birds Rio game:
Angry Birds Rio, a spin-off of ANGRY BIRDS, is coming in March in conjunction with the release of Rio the movie. Subscribe to ObamaPacman Apple blog for the latest developments.

Related Posts