Analysis: iPhone Nano / Mini Rumor Roundup
Miniature iPhone rumors: display size, cloud storage, pricing, etc. And why they don't make sense.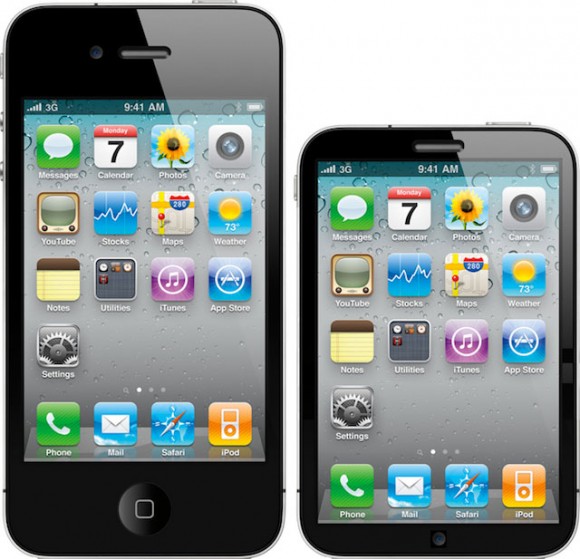 Cloud Storage on iPhone Nano
Rumor: Smaller iPhone would have low or no solid state memory / storage. Instead, iPhone mini will rely on cloud storage, requiring constant internet connection.
Reality: Apple products almost always have higher physical storage capacity versions than me-too knockoffs. Also, see how badly Microsoft's Cloud-only Windows Phone Kin failed. (A device that requires constant uploading and downloading from the internet, even if it has limited features, requires a smartphone level plan). Unless Apple revolutionizes cloud storage, the cloud only iPhone nano is unlikely.
Smaller Screen on iPhone Nano
Rumor: iPhone nano will have a smaller display.
iPhone / iPod touch UI and all the App Store titles are optimized specifically for the pocketable 3.5″ display. Thus, it would be difficult to "resize" iOS to a smaller display. Plus, how do you make the on-screen keyboard narrower? You can't. Thus screen needs to be the same width. That means height of the display. In the mockup above, how do you press the tiny Home button? With a tooth pick? Or are we back to the 1990s' stylus?
Another possibility is the iPhone nano running the multi-touch iPod nano OS. iPod nano works on a much smaller display but it does not run iOS. So, it's possible that iPhone nano will run the same OS as iPod nano, but that would deny the large number of superb App Store iOS apps.
Pricing of iPhone Mini
Rumor: iPhone nano / iPhone mini will be "inexpensive."
Miniaturization costs money. So unless iPhone mini has a much smaller display there won't be much saving in size. Thus, it might be difficult to make a smaller version of Apple's already efficiently packed smartphone, at a lower price. See iPhone 4 dissection video. Where is the battery going to go? Where will the multi-touch display fit?
Furthermore, iPhone is already competitive in pricing. It's subsidized by the carriers in the US, available as low as $19 for AT&T iPhone 3GS 8GB refurb. For many months in 2010, Apple can't even make enough of iPhone 4 or iPad. Even now, an unlocked iPhone also sells for over $1,000 in some countries, so Apple isn't over-charging at all. Would it be smart to allocated the limited iPhone production capacity to a "cheaper" product?
Conclusion
At this time, all these iPhone nano rumors sound implausible to us. But Apple has never ceased to surprise us, so only time will tell whether Apple will release a miniature iPhone.

Related Posts