What Happens When You Steal a Hacker's Mac
"PwNeD bY The owNer." Hacker Zoz presents at DEFCON computer security conference about his stolen Mac, which traveled halfway around the US.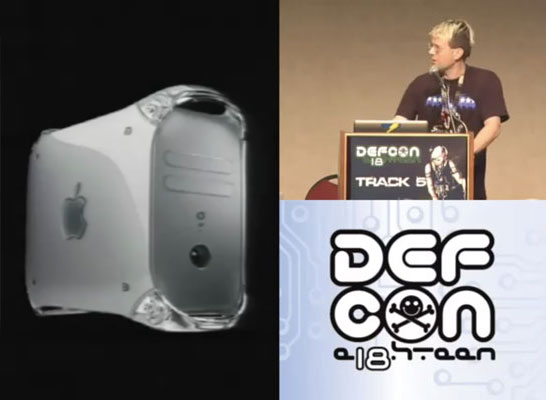 Video: Hacker's Mac Odyssey
Contains some swear words, and security lessons (21 minute video):
Many hackers use a Mac, like the famous FBI most wanted hacker Kevin Mitnick. But sometimes, despite triple-zoned zombie-protection locks, hardware security fail happens even to a hacker.
"Having your place broken into and your computer stolen can be a nightmare. Getting revenge on the f*cker who has your machine can be a dream come true. I had the opportunity to experience both of these when my machine was stolen in Boston and then showed up in Las Vegas 2 years later. Come share some laughs at a lamer's expense, participate in the pwnage, and learn some resulting insights into the implications of certain security decisions." – Zoz
ObamaPacman's video summary:
"My macintosh, a Quicksilver G4, which is my pride and joy, is now gone," stolen from Boston. Presented at hacker conference DEFCON, is a story of how a hacker's physical security fail turned into a 2 year odyssey for his Mac server.
Although Zoz has daily redundant backups, they are stored in the same room as the server, and they were also stolen (lesson: offsite backups). The PowerMac G4 is not an iPhone, and it doesn't have an iSight (that comes standard on modern iMac, MacBook, MacBook Pro, MacBook Air), so how can he recover his Mac? For 2 years he has seen nothing, but 2 years later the computer's dyndns service (useful to assign a domain name on dynamic IPs) got updated because the computer was online.
The hacker's Mac is now in Las Vegas.
It's a Mac, so an admin can enter things in command lines to make it "do things," like text to speech! (Funny example 9:28 into the video, with swear words.) But he wants it back, so instead of making the computer speak and freak out the guy, Zoz used SSH and VNC to log into his computer.
Because it's his own Mac and he's the admin, Zoz can keep track of what's going on by installing a key logger remotely. He found photos of the current possessor, Gmail address (easy to find via a browser cookie), name, year of birth (Hint: don't use your birth year for your email address), address, and the guy's "nuke-from-orbit" approach to dating.
Anyway, with the thief's address, name, photos, and the Mac's serial number, hacker Zoz was able to help the police track down his Mac. A happy ending!
LESSONS LEARNED:
Apple Mac OS Keychain is actually a great defense against keyloggers (aka spyware), because Keychain is encrypted. The hacker describes: "For a very basic key-logger, Having forms and passwords just fill in automatically when you are logged in once, is potentially protective."
Don't use your birth year for your email address
Document your serial numbers so police can recover your property
P.S. DEFCON has many more interesting videos. All defcon videos are available in .m4v, not in the resource draining Flash. Oh that's right, hackers, aka security professionals, know better. P.P.S. Hacker Zoz has the same PowerMac OP Editor uses for a server!

Related Posts