Video: iPad Guitar Girl Performance
Jamming with iPad guitar? There's an App for that!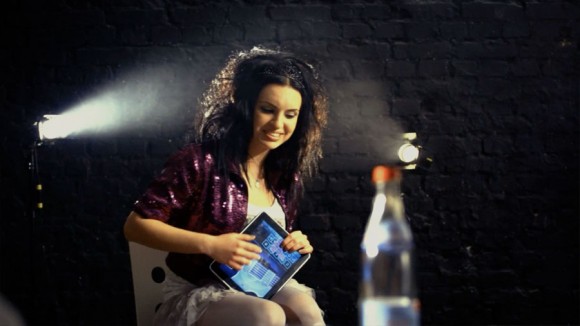 Video: Girl iPad Guitar Jamming Performance
A guitar within a purse?
Here's a music video of girl singing and jamming to iPad guitar app OMGuitar Advanced Guitar Synth [App Store] by Amidio Inc. Excerpts from the iPad app description:
"The strings themselves respond to the speed of strumming and the distance between themselves and the initial screen tap. The player is supposed to strum with one finger and place the second finger on the guitar at any time for muting all the strings. With such approach, many common guitar playing techniques can be easily accomplished.
…
Some of the world's best and most expensive guitar models have been sampled with great precision and act as the source for the synthesis engine. There are 6 completely different playable guitars, 3 acoustic and 3 electric. The tone can be further shaped with the 3-band equalizer.
OMGuitar has 10 built-in effects with over 50 presets: 2 types of Distortion, Reverb, Delay, Chorus, Flanger, Phaser, Wah-wah, Vowel filter, Compressor, Tremolo."
iPad OMGuitar App: distortion & some chorused arpeggios
OMGuitar iPad guitar app synth effects:
Not a talking guitar, but looks like a promising instrument [App Store], don't you think?
Thanks Mike for the tip.

Related Posts